Amanda Berry's 7-Year-Old Daughter Was Hero In Escape From Ariel Castro's House Of Horrors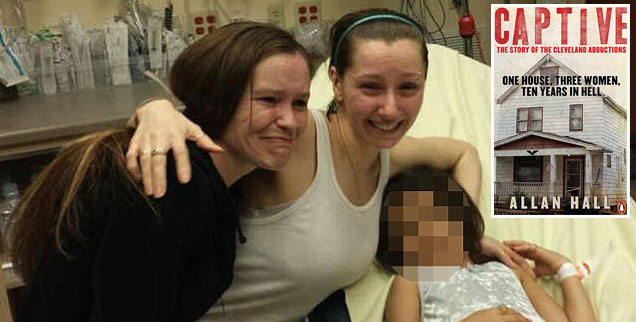 The previously unsung hero leading to the escape of three sex slaves from Ariel Castro's house of horrors was none other than Amanda Berry's seven-year-old daughter.
It was little Jocelyn who discovered that Castro had left their door unlocked, according to a new book, Captive: The Story of the Cleveland Abductions, and then urged her mother to act on the opportunity.
Author Alan Hall writes that while Castro treated Amanda Berry, Michelle Knight and Gina DeJesus like animals, he adored the little girl he'd fathered with Berry, and she'd been asking him to stop locking the doors in the house.
Article continues below advertisement
It had been Castro's custom to lock all the women in their respective bedrooms and to also lock the front door so there was no chance of escape whenever he left the house.
On that one day though, he acquiesced to his daughter's simple request.
In an excerpt from the book published by the Daily Mail, Hall writes:
"It was Jocelyn, according to investigators, who had descended the stairs shortly before Castro left the house, who had chatted to him and noticed that the front door leading to the porch screen door had not been locked.
It was she who returned to the frightened sisterhood upstairs to say, 'The front door's open and he's gone away. He's gone to Grandma's,' which was where he went to collect his brother. This lost female group, a sorority forged in adversity whose shared suffering had kept them alive and given them hope, nourishing them in their darkest moments, screamed out for salvation.
It fell to Berry to make the dramatic bid for freedom because the others were simply too cowed to move. She made the move downstairs with Jocelyn and began screaming for help.
Article continues below advertisement
Jocelyn gave Berry the courage to violate every rule Castro had set up for the women.
Says former FBI profiler Clint Van Zandt, "I think Amanda's maternal instinct may have made the difference."
Added one police investigator, "Castro probably wished he had never fathered that child."
Since being freed in May, Berry, DeJesus and Knight have all being working to resume some semblance of normalcy in their lives.
After pleading guilty to a variety of kidnapping and sexual assault charges, Castro was sentenced to life in prison. He died just months later, reportedly the result of auto-erotic asphyxia.