Exclusive
Teresa & Joe Giudice Return To The Scene Of The Crime, Spend Wedding Anniversary At Posche Fashion Show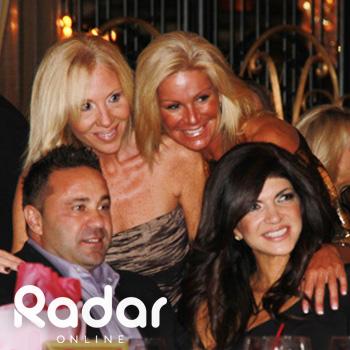 Is this the last anniversary they'll spend together? Legally challenged reality stars Teresa and Joe Giudice put their financial troubles behind them and RadarOnline.com has exclusive photos and details about their night out celebrating their wedding anniversary at the controversial Posche fashion show.
The Real Housewives of New Jersey stars are facing a whopping 50 years behind bars for their felony tax evasion and fraud charges but they looked like they didn't have a care in the world when they attended the event at the Venetian in Garfield, NJ on Wednesday night.
Article continues below advertisement
"Teresa and Joe seemed really happy," an eyewitness told RadarOnline.com.
"They posed for pictures with anyone that asked them and they were affectionate to each other. You wouldn't know that they're worried about anything if you saw them last night."
Bravo cameras were not rolling for Teresa's friend Kim Depaola's fashion show, which was the event that turned into a bloody brawl earlier this year and became into a vicious legal battle between Jacqueline and Chris Laurita, Joe Gorga and Johnny Karagiorgis.
However, the Wednesday night event went off without a hitch.
GALLERY: The Giudice's 30 Most Shocking Quotes About Fraud & Finances
"Teresa was so gracious and there wasn't any fighting at all," the source told RadarOnline.com.
Season six of the hit reality show is set to start filming shortly and as RadarOnline.com previously reported, Teresa is "thrilled" that Jacqueline and Caroline are off the show and she's looking forward to getting into drama with the new cast ladies.