10 Things You Didn't Know About Christian Grey Frontrunner Jamie Dornan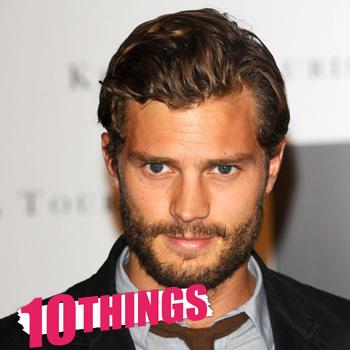 He's the sexy young Brit who is tipped to replace, um, another sexy young Brit as the lead in the movie Fifty Shades of Grey.
At 31, Northern Irish actor Jamie Dornan is rumored to be the frontrunner to replace Charlie Hunnam after the Sons of Anarchy star's shock departure from the steamy film.
Here are 10 things you didn't know about the man who just may become Hollywood's newest heartthrob…
1. He dated Keira Knightley
Article continues below advertisement
Jamie dated Pirates of the Caribbean star Keira Knightley from 2003 to 2005. The couple met on a photo shoot in Manhattan but managed to keep their romance under wraps for a whole year.
2. He was a Calvin Klein model
Jamie showed off his sexy torso in separate Calvin Klein campaigns with Kate Moss and Eva Mendes draped across his body. But in an interview with British newspaper The Evening Standard, the former model vowed: "I'm not going to take my shirt off every time I'm in front of a camera…
"People assume you're stupid enough as it is. Then you take your shirt off and they're like, 'He must be an idiot'."
3. His wife was 'married' to Colin Farrell
Before she was Mrs. Jamie Dornan, singer, songwriter and actress Amelia Warner, 31, was in a blink-and-you'll-miss-it "marriage" to Irish actor Colin Farrell. The couple tied the knot in Bora Bora in July 2001 and split up a few months later. But in 2011 Amelia told British newspaper The Sun: "We didn't actually get married… We had a ceremony on a beach in Tahiti that was no means legal…" Now happily hitched to Jamie, she is expecting their first child.
Article continues below advertisement
4. He's used to kinky roles
Playing S&M devotee Christian Grey should be a breeze for Jamie. He plays serial killer Paul Spector in the UK TV series The Fall. Jamie recently said of the role: "I spent a day strangling myself on the back of a door while I masturbated to a driving license of one of my victims." But the scene ended up on the cutting room floor. He says: "I couldn't believe it – they didn't even tell me."
5. He can sing!
Jamie used to be one-half of an Irish folk duo called Sons of Jim, which he formed with fellow singer-songwriter David Alexander. The duo reportedly released two EPs before quitting.
6. He's no stranger to movies
Jamie played Count Axel Fersen in Sofia Coppola's Marie Antoinette back in 2006.
7. His great-aunt won an Oscar
Clearly the acting bug is in his genes. Jamie's great-aunt was screen legend Greer Garson. The British star, who died in 1996 at the age of 91, was in the film classics Goodbye Mr. Chips and Mrs. Miniver, for which she won an Oscar for Best Actress. After finding out they were related, Jamie wrote her a letter. Two days later the then 13-year-old heard his great-aunt's death announced on the radio.
Article continues below advertisement
8. His nickname is "Daddy Dornan"
Jamie told The Evening Standard in 2009 that when his Belfast mates get a bit rowdy on nights out he puts his "sensible head on," is "quite strict with them" and will tell his friends to "calm down." He said: "Which is why they call me Daddy Dornan."
9. He loves to read…
In the same interview Jamie – a keen bookworm – once said: "I don't understand people who don't read… What else are they doing?"
10. His mother died when he was 16
Sadly Jamie's mom died of pancreatic cancer when he was 16. A year later four of his friends were killed in a car crash. He said: "I had a terrible time when I was 16,17. Therapy got me through that, actually. I'm not sure how I would have coped without it."