Forgive & Forget! Roy Horn Feeds Tiger Who Ravaged Him 10 Years Ago Today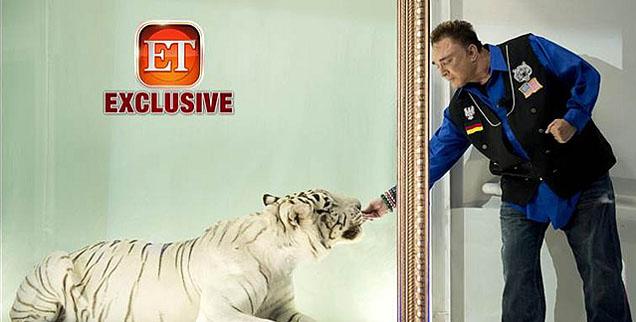 Roy Horn, one half of the legendary Las Vegas duo Siegfried & Roy, is a very forgiving man.
The magician, 69, was snapped by Entertainment Tonight feeding Montecore, the tiger who clawed at his neck onstage exactly 10 years ago today.
At the time of the incident, Roy's magic partner Siegfried Fischbacher told Larry King in 2003, that a near critically-injured Roy was concerned about the tiger's welfare, as he told officials in the ambulance not to let harm come to the animal.
Article continues below advertisement
Their longtime business manager Bernie Yuman expounded on Roy's forgiving nature, saying, "And in the ambulance, he also said, Montecore is a great cat. Make sure no harm comes to Montecore.
"Of course, he knew no harm would come, because he had many conversations with Siegfried and also with myself that nobody's ever to harm any of his animals."
The incident effectively ended the onstage career of the German showmen, as Roy retired from the longtime Sin City act he performed with Fischbacher for years.
For more on this story, check out ET on Thursday Oct. 3.