There Goes The Neighborhood! Kim Kardashian & Kanye West's Tacky McMansion Sends Sarah Michelle Gellar And Freddie Prinze Jr. Packing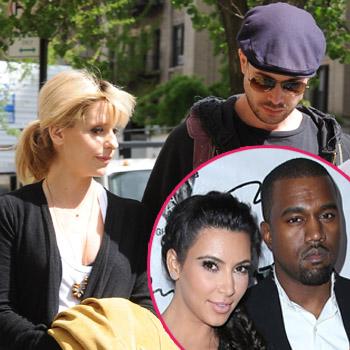 Kim Kardashian and Kanye West's tacky McMansion in Bel-Air has caused their neighbors Sarah Michelle Gellar and her husband Freddie Prinze Jr. to pack up and leave!
A source has told The National Enquirer that "the moment that Sarah and Freddie heard Kim and Kanye bought a home in their Bel-Air neighborhood, they put their house up for sale."
The couple fled to a more peaceful area after "Kimye" began a huge renovation project on their nearby $10.75 million home. The reality TV star and her rapper fiancé are gutting the existing house and expanding it from an incredible 10,000 to 14,000 square feet.
Article continues below advertisement
According to the Enquirer source, the neighbors, including Sarah and Freddie, feared that Kim and Kanye were turning their house into a tacky nouveau riche McMansion.
And the Buffy the Vampire Slayer actress also cringed at the thought of reality show cameras -- and the usual Kardashian - hungry paparazzi -- intruding on their quiet neighborhood, where she and Freddie had been raising their two young children.
For more on the story, pick up a copy of this week's National Enquirer.