Exclusive
Thankfully Acting Worked Out! 'Orange Is The New Black' Star Taylor Schilling Was Fired As A Waitress After Only TWO Days For Wearing Flip-Flops & A Short Skirt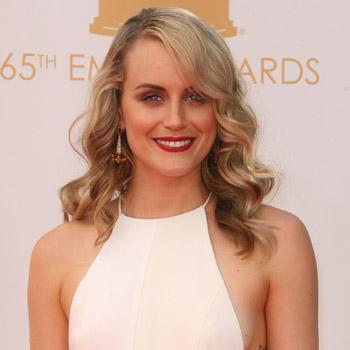 Orange Is The New Black star Taylor Schilling is being tipped as Hollywood's next big thing -- just as well -- because RadarOnline.com has learned that she wasn't cut-out for work in the service sector!
The 29-year-old actress, who garnered rave reviews playing Piper Chapman in the smash-hit Netflix prison drama, was quickly shown the door at The Villa restaurant in the small country town of Wayland, Mass., where she was raised.
Article continues below advertisement
"Taylor did not last long after she turned-up wearing flip-flops with a short skirt," manager Brian Lewis told RadarOnline.com in an exclusive interview.
"This is a traditional style family restaurant, so, that did not go down too well. She was only here two days I believe.
"Fortunately, though her acting career seems to have really taken off and we are pleased for her!"
The blonde-headed beauty, who also starred in Oscar-winning Argo alongside Ben Affleck and with Zac Efron in 2012's The Lucky One, previously admitted she made a lousy hostess during an interview with the Improper Bostonian.
Asked if she ever waited tables as a struggling actress, Schilling revealed: "I wanted to do that but was unable to function in the restaurant setting. I tried to hostess... but they fired me after four days because I couldn't figure out how seating plans worked."
She joked, "I might also have worn a really short skirt and flip-flops, too, by accident, and they were like, "OK, go home forever.'"
These days, Schilling -- who also starred in the NBC drama Mercy -- can afford to eat anywhere she wants as her career goes from strength to strength.
Article continues below advertisement
The daughter of local prosecutor turned criminal defense attorney, Robert Schilling, and her MIT administrator mother, Tish, the actress grew up in both her parents' homes when they divorced.
After graduating from Wayland High School in 2002, she attended Fordham University in New York where she was guided by Game of Thrones star Peter Dinklage's theatre director wife, Erica Schmidt.
The couple were so impressed with her work that they encouraged agents to come and see her perform.
As a result, she was quickly signed-up.
After Fordham, Schilling went to a grad school at NYU and did conservatory training but left after two years when she was cast as the lead on the NBC medical drama Mercy.
And her Wayland High School acting coach, Richard Weingartner, never had any doubts that his star student would make it big.
He said, "Taylor really lit-up when she got on the stage - she was always very talented and I'm not surprised she is doing so well now.
"She was with a dedicated bunch of students in High School and she was very passionate about her acting too."
Netflix has still not set a date for the second season of Orange Is The New Black, which also stars Laura Prepon, Michael Harney and Michelle Hurst.