Exclusive
Show Me The Money! Bethenny Frankel Still Hasn't Forked Over $10K To Omarosa For Lost Bet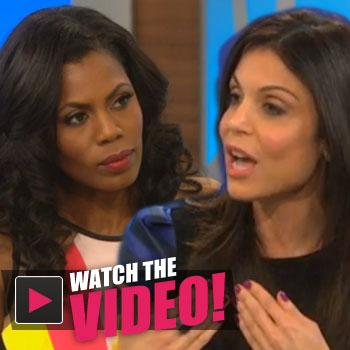 Article continues below advertisement
However, Omarosa said she hasn't made good on her bet.
"She said 'write the check' right there on air," Omarosa told RadarOnline.com.
"But when I got to my green room nobody said anything."
Instead of hard feelings Omarosa expressed confidence in Bethenny, who reportedly sold her SkinnyGirl empire for $100 million, to deliver the check promptly.
"I'm sure she'll honor her word. She said it live on air," Omarosa told RadarOnline.com.
As for the $10,000 payment, Omarosa said she has big plans for spending the money.
" I'm a Baptist so I'm going to tithe 10% to the church. Then I work with the Fred Jordan Mission and at Thanksgiving our church gives out a lot of turkeys so I'm going to buy a lot of them. I can make a lot of people happy on Thanksgiving. The rest will go to Michael's foundation," she said about her late fiancé Michael Clarke Duncan's memorial fund.
However, a source close to the situation told RadarOnline.com that the fight and bet with Omarosa may have been staged.
"There are some people who think that the fight wasn't real and that by having a fight with Omarosa it would improve the ratings for Bethenny."
Do you believe it was real or do you think everything was fake? Also, will Bethenny give Omarosa the check? Tell us in comments.