Miley Cyrus VMA Back-Up Dancing Bear: 'I Felt Degraded, Ashamed To Be A Little Person'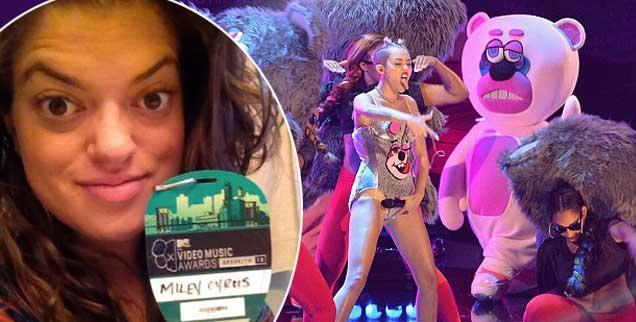 Hollis Jane had hoped that being a back-up dancer in Miley Cyrus' VMA performance would be a thrill, a great experience, and the money she was offered was "terrific." It ended up, she says, as simply "degrading."
Jane is a little person and was one of Cyrus' dancing bears.
"For the first time I felt truly ashamed of being a little person," Jane writes in her blog being seen around the world.
"Standing on that stage, in that costume was one of the most degrading things I felt like I could ever do.
Article continues below advertisement
"After our first dress rehearsal in the costumes with the crew, publicists, performers etc watching us, I walked out of the Barclay Center shaking and crying," Jane recalls. Fortunately, two of her best friends were there to visit and helped her through it.
"I walked up to them and broke down," she reveals. "I love being the center of attention, but that was something different. I was being stared and laughed at for all of the wrong reasons. I was being looked at as a prop...as something less than human."
Jane, who has her college degree in theater, says she was later asked to audition to go on tour with Cyrus but despite the financial security it would have given her, she couldn't bring herself to do it.
"We can all agree that right now all Miley Cyrus wants to do is make society's jaw drop," she writes. "So what's more 'weird' or 'freaky' than having little people parading around in your show?"