Kimye's Engagement -- 7 Latest Developments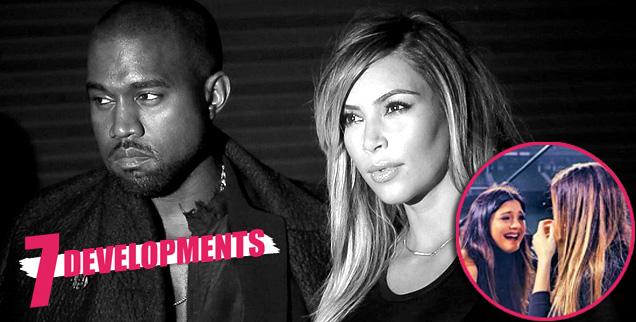 Kim Kardashian and Kanye West's surprise engagement continued to make headlines with the release of video capturing the moment it happened.
RadarOnline.com is right on top of all things Kimye. Here's seven new developments in what should be the most ballyhooed celebrity wedding in years.
7. Troop Kimye
Hollywood bad boy Joe Francis, who was present Monday evening, said thing were well concealed, as Kanye approached it "like a military operation." The Girls Gone Wild founder boasted about the rapper's prescience in pulling off this plan to a tee. "The ruse was so great, a real class act … Kim was so shocked and so happy ... everybody got choked up," he told the NY Daily News. "I think Kim thought her sisters were abandoning her on her birthday. They said they were at a spa in Arizona, and they were fake Instagraming. Kim really believed everyone was where they said they were. Her face was just absolute shock when we all came out running."
Article continues below advertisement
6. This Magic Moment
The sweet isn't as sweet without the sour for Kim, who shed many tears over the breakdown of her relationship to ex-husband Kris Humphries. But on Monday, it was nothing but joy and bliss for the former sex tape starlet. A source told E! that Monday's events left everyone "in tears, it was incredibly romantic. Kim was beaming… she was smiling from ear to ear. Kim and Kanye were so cute together. They were so overjoyed and happy. It was the most perfect thing ever."
5. Buy Me Some Peanuts And …
When Kim gave Humphries his ring back -- saying Kanye's would make it look like a Cracker Jack prize, in comparison -- she might have been right. Experts tell the NY Daily News the bling Kanye gave the socialite could be worth as much as $8 million. Forevermark Diamond's Adelaide Polk-Bauman told the paper a huge stone indicates it's "exceptionally rare," and that "very few places in the world have diamonds such as that."
Article continues below advertisement
4. Fool Me Once …
Kris Humphries' father William was a man of skepticism when contacted by the paper for a reaction to Kim's marriage-in-the-making, less than two years after she infamously divorced his son after a measly 72 days of marriage. "Does a leopard really change its spots? I don't think so. Not much changes. It's just different actors this time around."
3. We'll Parlay The Over With Hump's Celtics And Reggie's Lions …
Ireland's Paddy Power, an Internet betting service, has sprouted up a number of wagers based off the relationship in the past day, Mirror UK reports. Among those that caught our attention: Odds are 2/1 the marriage will be over in less than two years; 8/1 the marriage lasts at least 73 days; and a fair 11/8 that the duo makes it to the five-year mark. A rep told the publication, "There is nothing Kim loves more than a white dress and a knees up, but with baby North in tow could Kanye be the last man to walk Kim up the aisle? The odds are saying it's very likely it will be third time lucky for Ms. Kardashian."
Article continues below advertisement
1. The Devil's In The Details
Just as he does in his raps, Kanye was a hands-on, creative force "involved in every single way" with the production of the ring, sources with jeweler-to-the-stars Lorraine Schwartz told E! "He had a vision from the beginning. He looked at a lot of stones and he wanted only the best. He and Lorraine emailed back and forth, and stayed up nights discussing how he wanted it to be. He wanted the diamond to look like it was floating on air. Everything was his idea from beginning to end."
1. We Want Prenup? That'll Be $100K
Elite New York divorce attorney Robert S. Cohen estimates a prenup for the wealthy tandem — he's reportedly worth $100 million, she's in the $40 million neighborhood — could cost as high as $100,000 to draw up. "They should be able to walk away without any obligation to the other, except to the extent that they do projects together, and then the prenup should deal with splitting that 50/50," said the legal beagle, who's represented coveted clients such as Christie Brinkley and Ivana Trump