Fans FURIOUS As 'Scumbag' Kanye West Cancels Vancouver Concert AGAIN!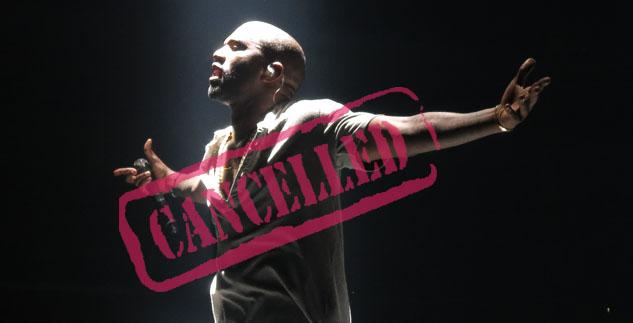 Kanye West fans are furious with him after he canceled his Vancouver concert AGAIN for the second time just hours before the show RadarOnline.com has learned.
The Yeezus rapper canceled the initial October 20 show at the last minute, outraging fans who had traveled hundreds of miles and spent money on hotels only to learn that the show was called off when they arrived and it looks like he's done it again.
Article continues below advertisement
The Edmonton Journal confirmed that the October 31 show at Rogers Arena was canceled at the last minute and despite claims of equipment problems, local reporter Shanel Pratap Tweeted that concert prep was being undone: "Just drove by Rogers Arena - trucks packing up stuff. #kanye."
As RadarOnline.com previously reported, the night after the last cancellation Kanye proposed to Kim Kardashian in an elaborate show in San Francisco, causing fans to slam the rapper for ignoring them and the money they spent to see him and this time is no different.
But this time fans are blaming Kim, writing that Kanye is probably spending the night with his fiancée/baby mama for the holiday.
And another disgruntled fan called him out, writing: "SCUMBAG Kanye West cancels show in Vancouver again!"
Article continues below advertisement
A statement on Target Arena in Minneapolis, MN website detailed why the Yeezus tour has been indefinitely postponed.
"Yesterday, on the road to Vancouver, a truck carrying The Yeezus Tour's custom-made video truss and 60-ft circular LED screen was in an accident that damaged the gear beyond repair. This gear is central to the staging of The Yeezus Tour, and central to the creative vision put forth by Kanye West and his design team at DONDA. As a result of this event, it is impossible to put on the show and The Yeezus Tour will be postponed until these essential pieces can be reengineered and refabricated.
"Kanye West will not compromise on bringing the show, as it was originally envisioned and designed, to his fans. The Vancouver, Denver and Minneapolis dates have been postponed. Further details on the affected tour dates will be announced shortly."