Exclusive
Kanye West Asked Lana Del Rey To Perform At Proposal To Kim Kardashian But She Said No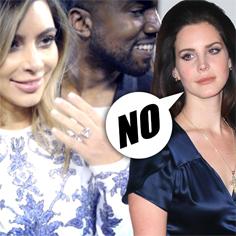 Kanye West asked Lana Del Rey to perform for his baby mama, Kim Kardashian, at the over the top marriage proposal in San Francisco earlier this month, but the New York singer politely turned down the offer, RadarOnline.com is exclusively reporting.
Kardashian is apparently a huge fan of Lana's and is obsessed with her song "Young & Beautiful" from The Great Gatsby soundtrack.
Yeezus "asked Lana to perform for Kim at surprise marriage proposal in San Francisco," a source told RadarOnline.com exclusively.
Article continues below advertisement
"Lana politely declined, and didn't give any reason for not being able to perform. It was a very firm no from Lana and her camp. Kanye did try to push it, but didn't get anywhere. Kanye decided to hire an orchestra to perform the song for Kim, and he was much happier with how it turned out," the source said.
The rapper rented out AT&T Park in San Francisco on Kim's 33rd birthday, and invited most of her family and friends to the ballpark, where he got down on one knee and pulled out THE RING.
"Complete surprise. I truly had no idea," Kim described about her baby daddy popping the question.
"I was shaking the whole time. It was like an out of body experience," she told reporters at her birthday bash at Tao nightclub in Las Vegas on October 25.
Everyone there "thought it was a surprise birthday party. Everyone — my sisters — it was such a surprise," the new mother said.
Our sources tell us, "Kim was bummed that Lana didn't perform for the big event, but she is still a huge fan. She just loved that Kanye tried to make it happen. Kim is jokingly saying Lana will want to perform at their wedding."