'99 Grand Jury Wanted To Indict JonBenet Ramsey's Parents On Child Abuse Charges: Newly-Uncovered Court Docs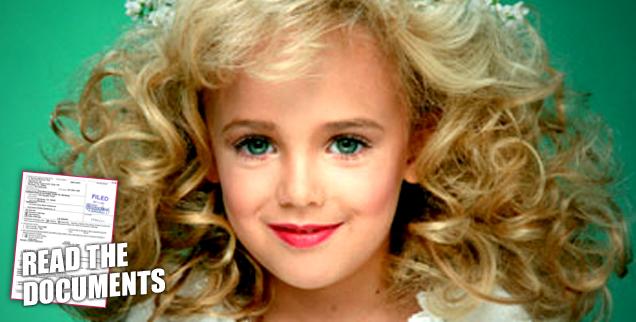 In a shocking new development in the JonBenet Ramsey case, just-uncovered court documents reveal that a 1999 grand jury wanted to indict the late tot's parents John and Patsy on charges linked to child abuse resulting in death, and being accessories to a crime, RadarOnline.com has learned.
The parents, the grand jury said, "did ... permit a child to be unreasonably placed in a situation which posed a threat of injury to the child's life or health which resulted in the death of JonBenet Ramsey."
Article continues below advertisement
The Boulder, Colorado district attorney at the time, Alex Hunter, rejected their suggestion that each parent would have been charged with both counts, claiming insufficient evidence. Hunter in '99 said he and his legal team "believe we do not have sufficient evidence to warrant the filing of charges against anyone who has been investigated at this time."
The grand jury's conclusion was subsequently sealed, and only made public Friday.
Earlier in the week, John Ramsey asked officials to release the entire grand jury record if the unprosecuted indictment was made public. An attorney representing John Ramsey, L. Lin Wood, says that no evidence in the grand jury case implicated the Ramsey's and the public should be able to see that for themselves.
John Ramsey's attorney L. Lin Wood said the grand jury did not use any evidence that implicated the family in the murder, adding that he doesn't think the new report will sway public sentiment on the story.
Article continues below advertisement
"Anything less than the release of all of the proceedings is a gross injustice to the Ramsey family," he said.
Karen Steinhauser, an ex-prosecutor and law professor told the AP that the jury might have heard (eventually-inadmissible) evidence, and that the active prosecutors likely didn't have enough confidence in whatever evidence there was to move forward with an indictment.
"I'm not sure that the release of this indictment is going to change the fact that there has not been able to be a prosecution and probably won't be able to be a prosecution," Steinhauser said.
Patricia passed away, after a battle with cancer, in 2006.
The case in the December 1996 death of the then-6-year-old remains an open, but not active, investigation.