G'Day Mate: Isla Fisher Leaves Aussie Gala Early By Crawling Out On All Fours… Seriously!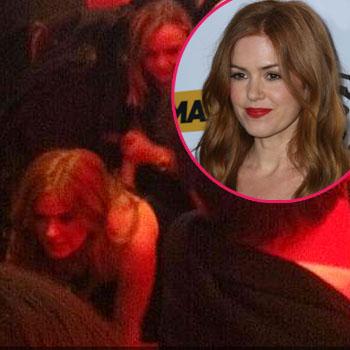 Aussie actress Isla Fisher made a literal tribute to the land down under at the Australians in Film Awards in L.A. on Thursday night: Mid-way through the party, Fisher decided to sneak out early by crawling through the bash on all fours!
According to Autstralia's Daily Telegraph, Fisher was "abrupt" and "conducted few interviews on the red carpet" before the event, and was also heard complaining at one point to a friend, "I was supposed to leave twenty minutes ago."
Article continues below advertisement
Fisher finally seized the moment to make her escape during the live auction, the paper claims, but auctioneer Osher Gunsberg apparently took her rise from the table as a bid for $15,000 for two flights to Australia.
A mortified Fisher quickly sat down, but just a few minutes later, the reports claim, she and her "minder" began crawling along tie floor. "The exit was anything but subtle," the Telegraph claims.
What motivated her to make such a crazy, Mission Impossible-style exit? She could have been pissed that fellow presenter Rob Pattinson stole her joke.
Fisher had presented the "Orry-Kelly International Award" to Great Gatsby director Baz Luhrman, and mentioned the award's similarity to the name of singer R. Kelly in passing during her time on stage.
Up next to present another iteration of the award, Pattinson ran with the joke (perhaps right over the line), and announced he was presenting the "R. Kelly Golden Shower Award."
While the quip reportedly went over well with the audience, Pattinson quickly apologized for making the proceedings X-rated, and Fisher was spotted sneaking out soon after.