Exclusive
'I Don't Doubt At All' Frank Sinatra Fathered Ronan Farrow: Ol' Blue Eyes' OTHER Love Child Tells How 'As Soon As I Saw The Photo, I Knew!'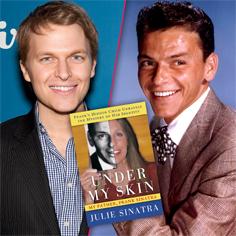 Responses have been mixed since Mia Farrow announced there was a possibility that her son Ronan was fathered by Frank Sinatra, and not Woody Allen, as many had long assumed. Frank's widow, Barbara Sinatra, dismissed then claim as "junk," while Ronan himself tweeted, "Listen, we're all *possibly* Frank Sinatra's son." But now, a woman who has claimed for years to be Frank's secret daughter, Julie Sinatra, has stepped forward to tell RadarOnline.com that she fully believes that Ronan is her half-brother. "I hadn't heard of him but as soon as I saw the photo, I knew," she says. "I could see the markers in his face! He's got my eyes and dad's nose, forehead, and cheekbones. I don't doubt it at all."
Article continues below advertisement
Julie was 54 years old when she discovered that her mother, a Hollywood starlet named Dorothy Bunocelli, had had an affair with Ol' Blue Eyes around the time of her conception. (Born Julie Lyma, she had her name legally changed to Sinatra in 2000.) Julie claims she's since confirmed she is a Sinatra through DNA testing completed with a sample obtained from Frank and Nancy Sinatra's son Frank Sinatra Jr. without his permission. And now, she hopes to welcome Ronan to the family as only a fellow love child can.
"Ronan is welcome to contact me," Julie says. "I would much rather hear that Frank Jr. has stepped forward, but I haven't heard of anyone stepping forward yet to help Ronan resolve his identity."
"I'm happy to help him have DNA done because I have that with Frank Jr.," she adds. "He could test with me and he would know for sure."
But even if she never hears from Ronan, Julie says, "I do believe it's true. After seeing Ronan's photo, I went online and saw an interview he did and I definitely saw the Sinatra sense of humor. I believe that it's very very true."
Article continues below advertisement
Julie wrote a book about finding out her dad's identity several years ago called Under My Skin: My Father, Frank Sinatra.
Since outing herself back then, she says, "I've had two conversations with Frank Jr. Not in recent years. But they were lengthy and quite brotherly and sisterly."
Frank Jr.'s motives weren't entirely cordial, however. "He was seeking me out because I think there was concern I was going to sue the estate," she explains. "That has never been my intention. We haven't spoken in recent years."
And now she's thrilled to find out that she might have another half-sibling in Ronan.
"It was definitely a bit of a surprise," Julie laughs, "but we all know that our dad got around!"