Fashion Feud! Naomi Campbell Calls Out Victoria Beckham About Racism on Catwalk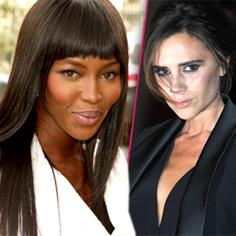 Supermodel Naomi Campbell launched a campaign to expose racial discrimination in the fashion industry and recently revealed that she personally called Victoria Beckham to ask why she hired only one non-white model in her 30-strong London Fashion Week Show.
After Campbell published an open letter with a list of fashion houses "accused of being guilty," she phoned the former Spice Girls star, RadarOnline.com has learned.
Article continues below advertisement
"I called Victoria and I spoke to her," Campbell told the Daily Mirror.
"I don't want to pin-point anyone. It isn't a blame game. Everyone's name was on that letter because they'd done it. It could have been completely unintentional. She is one of the designers on there like anyone else."
Campbell is at the forefront of the anti-racism Diversity Coalition with David Bowie's model wife Iman and agent Bethann Hardison.
The issue of discrimination in the fashion industry hit the headlines whenCampbell and her campaign colleagues put their names to an open letter addressed to the governing bodies of the fashion industries in New York, London, Paris and Milan.
The letter highlighted that at New York Fashion Week just six per cent of models were black and nine per cent were Asian and that fewer black models are used now than in the 1970s.
Article continues below advertisement
It listed "fashion houses guilty of this racist act" including Beckham, Calvin Klein, Chanel, Armani, Gucci, Roberto Cavalli and Marc by Marc Jacobs.
Naomi confessed that she wasn't worried about upsetting fellow fashion industry members.
"Absolutely not! There is no way to candycoat this sort of thing," she said.
"You have to be straight. We had the percentages and we were armed with the facts and you can't be nervous about upsetting people.
"I speak the truth. People might not like it but I am doing it."