Don't You Forget About Emilio Estevez's Malibu Home-Winery -- If You've Got A Spare $9.9 Million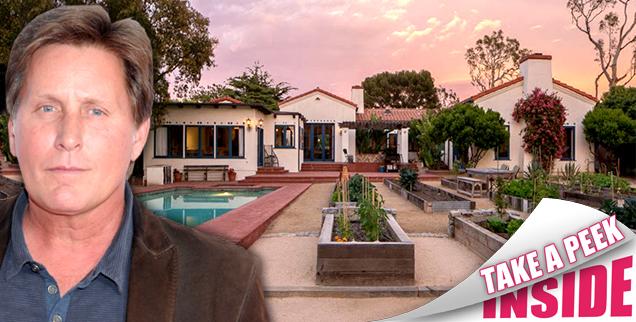 It's probably not as exciting as his brother's Sober Valley Lodge, but Emilio Estevez's Malibu home isn't half-bad, and we've got a look at the dazzling property right here for you on RadarOnline.com.
The older brother of Charlie Sheen, RealEstalker reports, has placed his magnificent Malibu digs near Point Dume on the market for $9,995,000.
The Mediterranean-style home of the actor -- who achieved his greatest fame as an 80s heartthrob in films like The Breakfast Club, St. Elmo's Fire and Young Guns -- sits on a 1.1-acre estate and spans 3,731 sq. feet with four bedrooms and five bathrooms. Inside, are gorgeous frescoes and immaculate cathedral ceilings.
Article continues below advertisement
Since he moved into the hotspot 13 years ago, Emilio and his longtime love Sonja Magdevski have developed pinot noir vines on the grounds which are sold under their brand, Casa Dumetz.
"I did not grow up farming, but here I am now, planting grapes and pruning vines," Emilio told Wine Magazine in 2011. "I believe it has to do with genetics, why we are drawn to a certain thing for no apparent reason.
Other extravagant amenities (besides the vineyard) include a guest house, an orchard, and -- of course! -- a wine-tasting room.