Exclusive
LuAnn De Lesseps Having A 'Tough Time' Being Single After Love Split!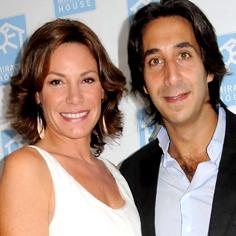 Article continues below advertisement
"There was a lot of frustration on both ends in that I know that Jacques would love to have a family," the Countess says.
"And at this point in my life, with my daughter going to college and my son just turned 17, I realized that I'm not ready to start over again. So we decided to mutually separate."
But the reality TV star said they both still "adore each other."
"We're friends and we do speak," she says. "We're just on different paths and at different points in our lives and we want different things. And so, as tough as it is, we're both very supportive of each other still."
After being loved up for so long LuAnn says she's finding it hard to dive back into the dating pool – even joking that she would consider going on The Bachelor to help her find a new boyfriend.
She says: "It's hard and I like being in a relationship, so I hope Prince Charming is going to come in and sweep me up! Maybe I have to do a new show like The Bachelor or The Bachelorette to find him."
LuAnn wants her new man to be a bit older. She says: "I hope I'll go on to meet the right person for me, who already has a family, who is already kind of 'been there and done that' and is maybe a little bit more age appropriate.
Article continues below advertisement
"Not that Jacques isn't, but having somebody a little older might be good for me."
Her future beau also has to be able to keep up with her glitzy lifestyle.
"It's so hard to find someone of great quality," she says. "I've been very lucky to have quality people in my life who are sophisticated, who speak languages, who know how to order wine, who are gentlemen, who are great men, so I know that they exist.
"It's just a matter of not settling for less and finding Mr. Right."
As for those rumors that she's rekindling her romance with her ex-husband Alexandre de Lesseps, LuAnn says they are just "good friends," adding: "We've always had a great relationship after our marriage, and we're the parents to these two beautiful, wonderful kids."