'The Bikini Body Diet' Revealed: New Book, By 'Shape' Editor-in-Chief Tara Kraft, Dishes On Diet & Fitness Secrets Of Beyonce, Britney, Pink & More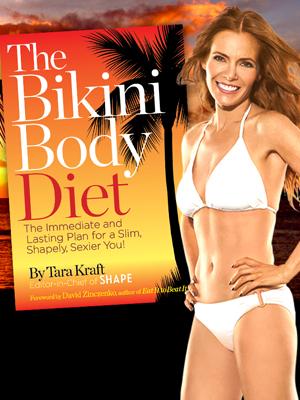 Ever wondered how you can get a body like your favorite stars?
Those famed physiques spotted on the beaches around the world, like Beyonce, Britney Spears, Pink, Alison Sweeney, Jillian Michaels... and so many more.
Here's how to tone and shape your best bikini body -- in as little as six weeks!
The Bikini Body Diet, a new book by SHAPE editor-in-chief Tara Kraft, is revealing the diet and fitness secrets of the renowned magazine's cover girls and many other super-successful women who want to look their best, while staying fit for a living.
Article continues below advertisement
Kraft's diet plan is the culmination of years of hands-on fitness and nutritional research by her and the editors of SHAPE -- the very plan many of them use to stay lean and healthy all year-round.
"I know it works, because I tested it myself," Kraft told RadarOnline.com.
"The plan starts with a simple juice cleanse that very quickly strips away pounds and flushes toxins from your body. So within the first week, our test panel of more than 2000 readers were reporting noticeable changes."
The book -- it's available for purchase here -- was inspired when Kraft's staffers challenged their editor to face her own body fears by posing for readers in a bikini herself.
"To show my solidarity with the 99.9 percent of the female population who dread swimsuit shopping, my staff convinced me to go public and don a suit I felt comfortable in," she said.
"Trust me being photographed in a revealing two-piece wasn't something I jumped to do."
Article continues below advertisement
However, despite her initial trepidation, Kraft implored all the tricks she'd learned working with celebrities at SHAPE.
The ultimate result: She achieved the best look of her life and even flaunted on the pages of SHAPE.
"I have relearned to embrace the fun factor when it comes to how I look at my body, especially when the weather gets warm and the beach calls me," Kraft said.
"I want other women to feel that as well.
"As the editor-in-chief at SHAPE, it's my job to help all women build body confidence. Every month, every issue, I have to coax celebrities into posing in bikinis for the close inspection of millions of readers.
"Believe me, even the most famous, successful and beautiful women in the world become nervous as 14-year-olds when confronted with the prospect of wearing a bikini.
"So I know how daunting it is for us mere mortals.
Article continues below advertisement
"But for the past two years, I've continued to use the Bikini Body Diet principles to keep myself in shape. It's my greatest wish that readers of The Bikini Body Diet have this same moment.
"With a little work and lots of self-love, I know they too can feel and look fabulous in a bikini."
She added, "Yes, this plan will get you ready for bikini season and deliver you the body of your dreams, but it will also ensure you fit into your skinny jeans and look and feel sexier than ever in that party dress.
"It is, quite simply one of the best weight-loss plans ever built. Prepare to regain your body confidence and keep it for good!"
Kraft said the book also gives readers a chance to discover stars' own favorite exercises, workouts and playlists, along with dozens of decadent, bikini-ready recipes, from shakes and smoothies to pizza and chocolate.
David Zinczenko, the New York Times bestselling author, wrote the foreword for Kraft's The Bikini Body Diet and says it's "an express-lane pass to the body you've always wanted."
"This book brings into focus the simple strategies you need to rediscover your best body ever and keep it for life," said the man behind books Eat It to Beat It! and The Abs Diet.