'Shake That Sack!' Bruce Willis Hosts Outrageous Boy Dance Party On SNL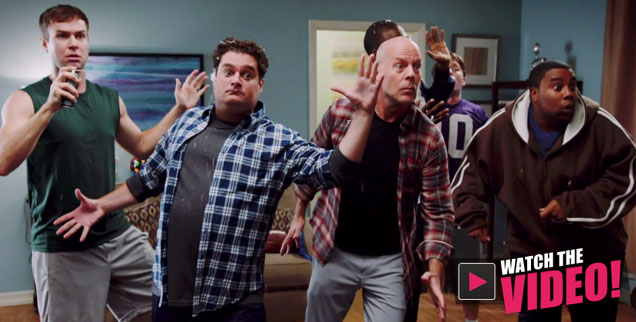 Bruce Willis gave Justin Timberlake a run for his money in the outrageous sketch department on last night's Saturday Night Live.
The guest host starred in a bit called Boy Dance Party with every one of the male SNLregulars taking part.
The guys decide they "sometimes like to dance with just us guys," and do they ever!
After telling his wife, he and his pals were going to watch football game while she goes out with the girls, Willis and the boys let loose.
Article continues below advertisement
SNL's Taran Killam, fast becoming the show's star, is a stand-out in the bit. So are Bobby Moynihan and Kenan Thompson.
"No girls allowed.. the guys sing, "men can twerk."
But the line everyone will be talking about for a long time?
"Shake that sack!" And do they ever!
You have to see it to believe it.
youtube=https://www.youtube.com/watch?v=5MQzc6SQk_E&w=420&h=315