Bitter In Beverly Hills! Brandi Glanville Calls Her Housewives Co-Star 'Evil'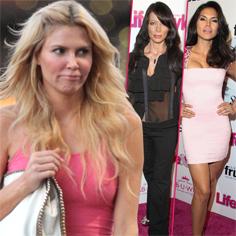 Article continues below advertisement
The most recent potshot comes from Brandi who Tweeted Girl Scout song lyrics but twisted them to fit her current situation.
"Make new friends but keep the old- 1 is evil & the others gold" she wrote, and tagged Lisa and Kyle in the note.
Brandi has become good friends with Kyle and snubbing Lisa, hanging out with her at the restaurant across the street from Sur and saying that Joyce needed a story line for the "reality" show so she picked on the easy target Brandi.
Which friend do you think is evil and which friend do you think is gold? Tell us in comments!