Beyonce Down Under -- Superstar Lays Low During Secret Photoshoot In Australia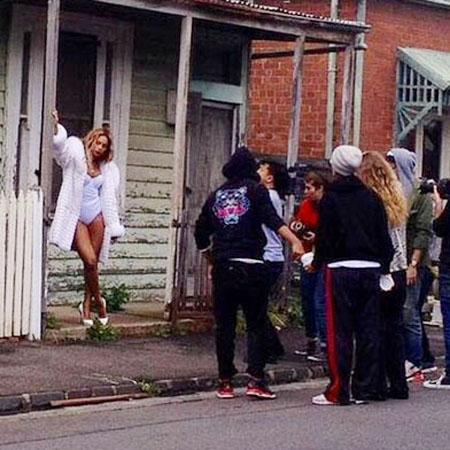 Just last week Beyonce caused a fan frenzy when she was spotted in suburban Melbourne, Australia doing a photoshoot so when the "Crazy In Love" singer did another shoot on Sunday in Fitzroy she laid low, but RadarOnline.com has a photo snapped by a fan.
Fan Jordan Barr spotted Beyonce just after he left work and took a photo of her hanging halfway out the window of a Ford Falcon.
"I literally knocked off work and walked around the corner and came across her," Barr said.
Article continues below advertisement
"There were a few security guards standing around who asked, 'Can you hold back with the photo?' as they didn't want to let the cat out of the bag after last week."
According to Barr, Beyonce was shooting in Melbourne for a documentary and calendar.
Screaming fans found Jay Z's wife last week after photos of the superstar posing in front of a home on Beith St. were posted on social media websites.
"When the man knocked on my door to ask if they could use my house to do the photos I thought he said they were with his fiancé, not Beyoncé," homeowner Jeanette Meadows, 80, told the Herald Sun at the time.
"I didn't even know who she was."