Ben Affleck Wants Pal Larry David To Be In His New 'Batman' Movie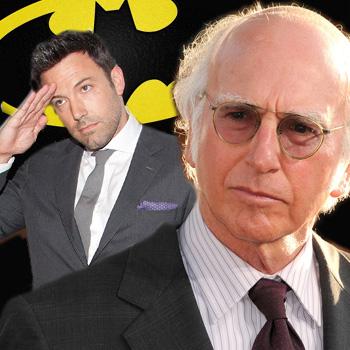 There was uproar when Ben Affleck was cast as the new Batman, but he's taking the role and running with it -- and wants pal Larry David to make an appearance in the movie also, RadarOnline.com is exclusively reporting.
According to an insider, the Brentwood, Calif. neighbors have been talking about the idea of David playing the role of Superman's enemy, Mr. Myxlplyx, in the Man of Steel sequel that features both Batman and Superman.
Article continues below advertisement
"The pair chatted about the idea with earnest abandon throughout the course of Emmy weekend. Larry has long been courted by the big budget superhero industrial complex, being linked to roles in the Sam Raimi Spider-Man sequels nearly a decade ago," the insider revealed.
"But Ben is somebody he trusts and enjoys spending time with and this could be the right situation for Larry to finally appear in a huge-grossing hit film. Fun speculation that it could be for the famed Superman enemy role of Mr. Myxlplyx could make this piece more exciting, since Larry is a dead ringer for the character."
And the insider thinks Affleck might have the pull it takes to get David in the movie.
"Ben and his personality are taking over this whole production -- he could come out of this with a producer credit," the source said.
David, 66, is an actor, writer, comedian and television producer best known for being the head writer and executive producer of Seinfeld. He also created the HBO series Curb Your Enthusiasm.