Not-So-Model Behavior: Alessandra Ambrosio's Baby Daddy Is Caught Holding Infant Son While Driving... WITHOUT Seatbelt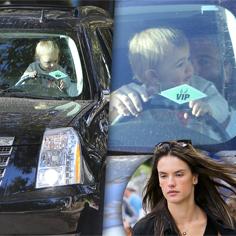 Victoria's Secret model Alessandra Ambrosio's baby daddy put their little son Noah in an incredibly dangerous position by taking him out of his car seat and holding him in his lap while driving down a Los Angeles street and RadarOnline.com has the shocking photos of the illegal and frightening situation.
Jamie Mazur was spotted in a large black SUV driving down the streets of Brentwood, Calif. on Wednesday with his 17-month-old son Noah in his lap playfully in the driver's seat holding onto the steering wheel.
MORE ON:
Alessandra Ambrosio
Article continues below advertisement
The supermodel's spawn looked delighted to be driving with daddy, but he was not properly restrained in a car seat and instead was standing on his dad's legs and pretending to steer the car.
Not only do the photos show Alessandra's son in a horrifically dangerous situation, the law in California states "Children under the age of 8 must be secured in a car seat or booster seat in the back seat."
Britney Spears made a similar bad choice in 2006 when she was photographed with her son Sean Preston in her lap driving and at the time she blamed the aggressive paparazzi for her illegal decision and said that she loved her son and was trying to protect him.