Exclusive
Vincent Chase Would Not Approve! Adrian Grenier Drowns His Sorrows With 'Frou Frou' Drinks After Speech At Local College Bombs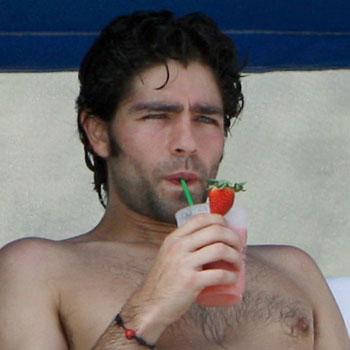 With the Entourage movie a go, Adrian Grenier might want to switch into method acting mode. RadarOnline.com has learned that he wasn't exactly channeling the show's suave leading man, Vincent Chase, during a recent appearance at Washington University in St. Louis, when he flubbed his speech and drowned his sorrows with fruity drinks afterwards.
Grenier was set to give a talk at Wash U on October 23. But according to the student paper, he proved to be less than engaging.
Article continues below advertisement
"The crowd was thin to start," Manvitha Marni wrote, "and even after Adrian Grenier admitted to being single and open to a relationship, students continued to leave Graham Chapel, leaving only the first several rows occupied by the time he finished talking."
Instead of sharing on-set secrets from the hit HBO show, Grenier focused on his beliefs about environmental activism and disappointed students "started walking out … after about 20 minutes," Marni claims. "And by the halfway point, approximately half were gone."
Not long after, he was spotted drowning his sorrows at the Three Kings Pub in University City. Grenier was "a real douche" to staff, according to a report in the River Front Times, but bar owner Ryan Pinkston tells RadarOnline.com that that is not true.
"I don't know who told them that," Pinkston tells RadarOnline.com exclusively. "It was probably some Wash U student who was mad they didn't get enough attention."
Article continues below advertisement
That same article also claimed Grenier "repeatedly asked" bartenders and patrons to buy him free shots, but Pinkston insists he wasn't that desperate.
"It wasn't like he was begging," Pinkston explains. "He just came in and was hanging out with Wash U students. The shot thing came from when he took a picture with one of the Wash U students and was like, 'Hey, you should buy me a shot for that' after. He wasn't begging."
But when he did order up a drink, Pinkston says, "he wasn't interested in Jack Daniels or anything like that. He wanted more 'frou frou' stuff."
"He had tequila with orange juice, grenadine, and maybe Sprite," Pinkston says. "Not that there's anything wrong with that."
Would Ari Gold agree?