Man Accused Of Killing NFL Star Adrian Peterson's Two-Year-Old Son Has Long History Of Violence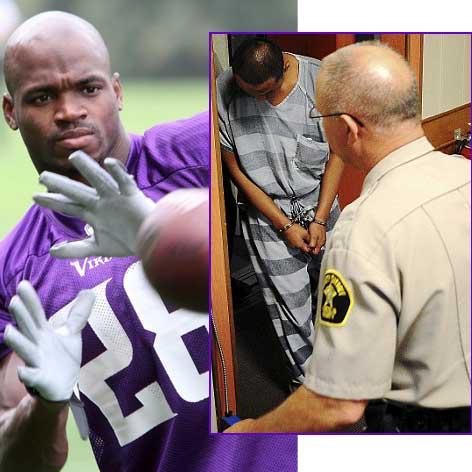 The tragic death of NFL star Adrian Peterson's son has many people saying it never had to happen.
The man accused of killing the boy, Joseph Robert Patterson, had a history of domestic violence including hitting a child but had never been to jail for his actions.
Minnesota Vikings running back Peterson only recently learned he had a son by a woman with whom he'd had a brief affair. He'd been planning on traveling to Sioux Falls, South Dakota to meet the toddler when he was notified the boy had been rushed to the hospital and was on life support.
Article continues below advertisement
Patterson who had been home alone with the boy, called 911 saying the child was choking. That's not what hospital personnel found.
"The injuries they found were head injuries," police spokesman Sam Clemens said on Friday. "It was obvious to medical staff that abuse had taken place and that those injuries weren't accidental."
Patterson only recently became the mother's current boyfriend. He was charged on Friday with aggravated assault on a child. The boy tragically died after the hearing. It's now expected some degree of murder or manslaughter charge will be added to Patterson's file as early as Monday.
Patterson has a history of domestic violence, the Argus Leader is reporting.
He was indicted in June, 2012 on several counts of simple assault involving an ex-girlfriend and her son, who was only three at the time.
The woman asked for an order of protection and said in her petition that Patterson had spanked her son so hard, she had to ice down the welts on his buttocks. She was granted the stay away order but Patterson was later charged with violating it.
Article continues below advertisement
As part of a plea deal, Patterson was sentenced to one year in jail for both cases but the time was suspended on the condition he attend domestic violence counseling.
A different woman also sought an order of protection against Patterson in 2004, according to the Argus Leader.
Peterson, who has another son of almost the same age, plus a 10-year-old son, tweeted his thanks to all the fans who'd offered condolences.
"Thank you to my family, my fans and fans of other teams for their support. The NFL is a fraternity of brothers and I am thankful for the tweets, phone calls and text messages from my fellow players.