Aaron Hernandez Connected To Gun Running Ring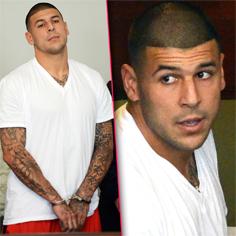 Article continues below advertisement
"The source indicated that police are focusing in on Hernandez's potential involvement in interstate gun trafficking, which is being investigated by several agencies in multiple states - at least Massachusetts, New York and Florida," the magazine wrote on Sunday.
"The extent of Pouncey's potential involvement is undetermined, but police are focusing on multiple transactions that involve him and Hernandez."
The report claims that he gun running ring may signal that the prosecution's case against Hernandez isn't as strong as they would like.
GALLERY: Read Murder Suspect Aaron Hernandez's Jailhouse Letter Here
"The increased scrutiny on Hernandez's gun activity could be an indication that the gun charges have taken an increased importance," Sports Illustrated reported.
"Shortly after the first murder investigation began, the source said, signs that Hernandez was involved with a large-scale, multi-state gun running operation began to emerge."
The gun allegedly used in Lloyd's death has not yet been found.