Lamar Odom Looking Super Skinny, Buys DVDs and Vegan Take-Out For Night Without Wife Khloe Kardashian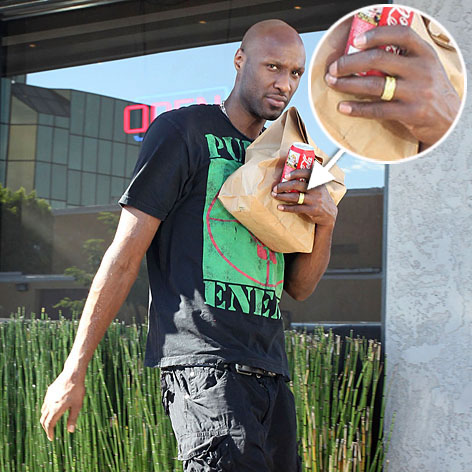 After a several hours-long summit with his estranged wife Khloe Kardashian, Lamar Odom stocked up for a night on his own.
The former Los Angeles Clipper first hit up a Blockbuster store where he spent several minutes going through numerous titles before leaving with seven DVDs, all thrillers and dramas including the controversial Mel Gibson flick, The Passion of the Christ.
Other shoppers were shocked at how thin the towering 6'10" Odom appeared. In shorts and a T-shirt, Lamar's arms and legs seemed surprisingly thin and lacking in the muscle mass he typically shows on the basketball court.
Article continues below advertisement
Odom then stopped at VeStation Vegan Cuisine and left with a large bag of take-out.
A chauffeur took Lamar on his errands, a step-up from earlier in the day when he arrived at his marital home in a taxicab for the pow wow with Khloe following his arrest Friday morning for suspected DUI.
Because Odom refused to take the required sobriety tests after being stopped on the 101 Freeway, he automatically had his California license revoked for a year.
It's unclear where Lamar spent Saturday night night but his Keeping Up with the Kardashians wife was photographed wearing her wedding ring on Saturday and Lamar is still wearing his.
Ironically, Lamar is still wearing his.