Sexy Bounty Hunter Sets 'Honey Trap' For 'Stupid' Fugitive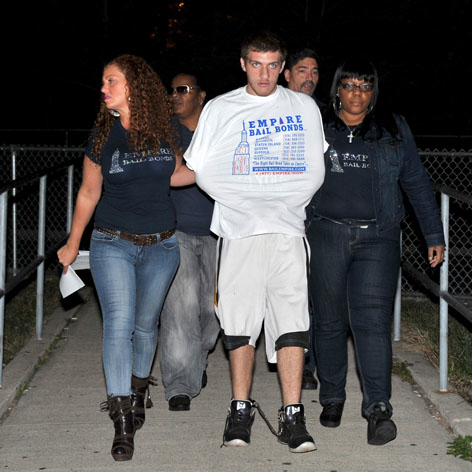 A man on the lam for insurance fraud on Long Island, New York is back behind bars, thanks to a so-called honey trap set by a sexy bounty hunter.
"We sent a hot piece of p***y to his door," bail bondswoman Michelle Esquenazi, who set up the trap, told the New York Post.
Jonathan Roth is now being held without bail, after a week on the run.
According to the Post, he'd admitted to helping his father fake his own death to collect over $400,000 in life insurance.
Article continues below advertisement
Roth was out on $10,000 bond on insurance fraud charges and fled to Ohio. That's where the women of Empire Bail Bonds tracked him down.
On Thursday he opened his door to a curvy brunette in high heels, a miniskirt and a cleavage-baring shirt.
She pretended to be looking for someone else and began to flirt. Roth took the bait and flirted back, stepping out of the doorway and into the arms of three Empire Bail Bonds bounty hunters who put him in cuffs.
"Of course he's going to open up his door for a nice piece of a**, it's timeless," said Esquenazi, Empire's CEO.
A reality TV show is in development about Empire, and Esquenazi took the opportunity of Roth's capture to publicize her company. She put an Empire Bail Bonds T-shirt on him for his "perp walk" back into a New York jail.
"The thing about defendants is no matter who they are - they can come in white, black, green or purple polka dots. They're all dumb," she told the Post. "Every single last one of them is stupid."