Unmasked: Meet The Woman Who Had Sex With 'Tough Love' Star Steve Ward In Exchange For A TV Role… And She's A High-Priced Hooker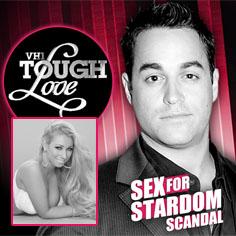 VH1 reality star Steve Ward promised her she'd be a star. Now, RadarOnline.com can exclusively reveal the identity of the high-priced call girl who slept with the crooked cupid in the hopes of appearing on his show, Tough Love: The female voice on the audio sex tape featuring a man identified as Ward, 32, belongs to webcam girl Jenna Shea.
Bootylicious blonde Jenna first reached out to Ward on Twitter back in August 2012, RadarOnline.com can reveal.
Article continues below advertisement
"I need to be on ur show BAD," she wrote. "google me i emailed already and you never put on any girls who are known u should"
The 28 Biggest Sex Scandals In Hollywood History
He was quick to respond, "As a professional 'web cam girl' I can tell u, you deserve fast track, priority, front row seating for #toughlove @iamjennashea. #respect"
She answered, "@stevenbward let's do it let me kno sic when your sic casting I need #toughlove"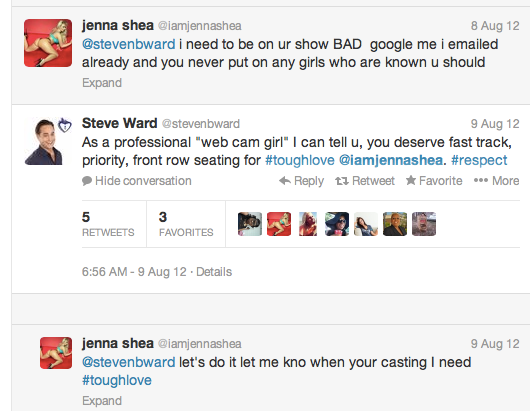 Throughout the fall, Jenna continued to stay in contact with Ward. On September 2, she wrote, "@VH1 needs another season of #toughlove so @stevenbward can counsel me."
On September 30, he wrote, "Complete the following sentence. The best part of a relationship is …." and Jenna answered, "money JK"
And on October 12, they had yet another flirty exchange. Jenna asked Ward, "What does my avi say about me? lol" regarding her Twitter profile pic, which features her on all fours in a thong. He answered, "It says use your imagination."
MORE ON:
Celebrity Justice
Article continues below advertisement
According to her website, Jenna is "a master of creating a sanctuary of seduction."
"When you spend a few hours in my company, you will gain a new appreciation for a hot, sweet thrill," she promises. "I am a natural pleaser and want your experience with me to be the most pleasurable you have ever had!"
Indeed, Ward ended up having sex with her during their rendezvous at the W Hotel in Los Angeles, after promising Jenna a spot on his show.
Normally, the privilege of her company is much pricier. Jenna lists a series of "rates" on her website, meetjennashea.com, next to a photo of herself in a thong and thigh-high fishnets.
One hour with Jenna normally goes for $1,000, she advertises, with 90 minutes at $1,500, two hours at $2,000, three hours for $2,500, four for $3,000, five for $3,5000 and six for $4,000.
Twelve-hour overnights in Los Angeles go for $5,000 and overnights elsewhere for 24 hours are the same price, with first-class airfare and travel expenses thrown in!
Article continues below advertisement
Ward promised Jenna a spot on his show in exchange for sex, as RadarOnline.com has reported. And while he bragged on the audio recording about scoring a deal with the big bucks call girl, the final cost to him could be much greater.