Exclusive
Shock Claim: VH1 Matchmaker Steve Ward Caught On Secret Audio Recording Promising Call Girl A Spot On 'Tough Love' -- In Exchange For Sex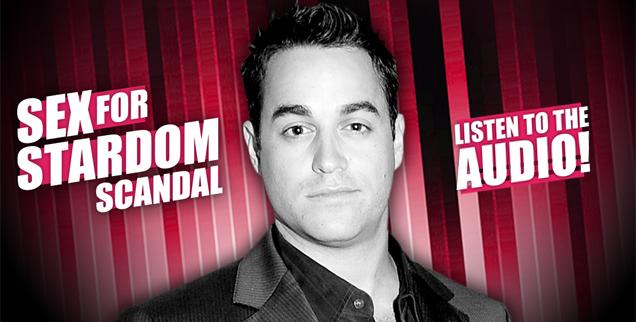 Reality television matchmaker Steve Ward has been caught on tape promising to cast a high-priced call girl on his VH1 show in exchange for sex, it was claimed last night.
Coming forward to RadarOnline.com, an escort made the shocking allegation that lecherous Ward, 32, boasted how "thrilled" he was that he'd hatched the sleazy work-for-sex deal and even bragged that he had the "greatest life known to man."
Article continues below advertisement
On the audio tape -- listen to it below -- a man can be heard outrageously propositioning the woman during a rendezvous at the W Hotel in Hollywood, Calif., in December last year.
The woman, who asked not to be identified, told Radar the voice featured on the recording is that of Ward, best known as the eligible host and executive producer of VH1's Tough Love.
"I will promise to do my very best to get you on my show and put you at the very front of the line to be on my show if you f*ck me, right now," the supposedly crooked cupid, 32, told her.
"Nobody will know about that. I promise I won't tell a soul. I promise. I promise. Nobody will know."
The woman consummated the deal, Radar has been told.
However, Ward did not pay the vice girl -- who advertises her services online for as much as $5000-a-night -- for sex.
"I am angling here… (inaudible). You're in the business of sex so I am going to make you an offer," the Philadelphia-native proudly told the woman inside the hotel suite, according to the tape.
Article continues below advertisement
"I think this is f*cking cool. I am pretty sure if I am f*cking you five minutes from now after making this deal, I would be so thrilled that I made a deal and bartered for this.
"I'd be like, this is amazing. I have the greatest life known to man."
radar_embed service=5min.com src="http://pshared.5min.com/Scripts/PlayerSeed.js?sid=1126&width=570&height=351&playList=517912213&sequential=1&shuffle=0"
Details of the sex-for-stardom scandal first surfaced on TheDirty.com last week, however the site did not identify Ward despite many commentators suggesting it was Ward.
The man identified as the VH1 host can also be heard telling the buxom blonde she could be a "star" if she appeared on his show, which is now in its fifth season.
"I think they'd love it," he said, referring to his show's producers. "I think they'd f*cking love it. I think they would eat it up. I think you would be a star. I really do."
Article continues below advertisement
The escort recorded the tape "because she wanted a record of their arrangement," Radar has been told.
Two months after Ward's twisted tryst, the woman -- who describes herself online as a "natural pleaser" who provides "the most pleasurable experience you have ever had" in exchange for cash -- auditioned to appear on his show.
"She made it up to the top 10 but then got dropped," a production source said.
"She did what he wanted, gave him what he wanted and he never lived up to his end of the bargain."
Furious at being double crossed, the woman then decided to release the recording.
The controversy hits the show on the eve of the Tough Love fifth season premiere on Wednesday and will raise questions about whether Ward exploited his high-profile role.
Ward, his management, nor VH1, returned multiple requests for comment.