Is This A New Low For Kardashian Family? Scott Disick Posts Pics Of Rolls Of Cash As Toilet Paper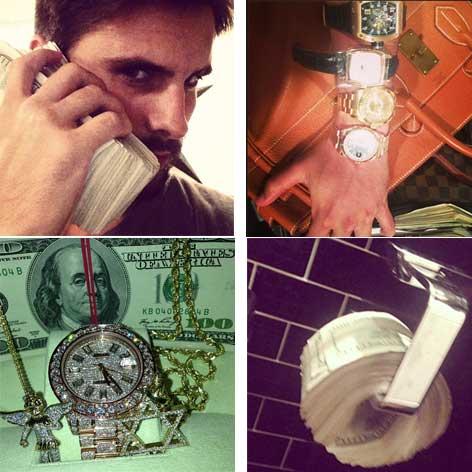 Scott Disick obviously likes to show off but his fans are asking if he's finally taken it too far.
Kourtney Kardashian's baby daddy has posted a series of pics of himself and his bling on his Instagram page, and even many of his own followers are blistering in their criticism.
The most offensive seems to be his image of a roll of money as toilet paper!
"You should donate that to someone who could actually use it like kids in Africa or kids that are dying of cancer just saying there are people in the world who need that more than a toilet paper roll," wrote one of the Keeping Up with the Kardashian star's followers.
Article continues below advertisement
Another was more pointed, simply writing "You're a dumbass for this."
Other images show Disick using a wad of cash as a cellphone, money spilling out of his wallet, and cash pilled up on his briefcase.
Making Kim Kardashian and Kanye West look low-key by comparison, show-off Disick also posted pictures of several jewel-encrusted wrist watches and several autos with six-figure price tags.
"It makes you wonder why Kourtney would be with him," wrote another follower.