Exclusive
Real Housewives, Real Drama: Kim Richards' Psychiatric Issues With Child To Play Out On Upcoming Season Of 'The Real Housewives Of Beverly Hills'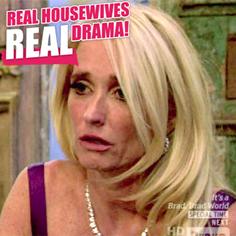 Article continues below advertisement
RadarOnline.com broke the story: The unidentified young adult was taken away in July after neighbors spotted him/her naked in the street babbling. We have chosen not to name the child.
"The child will most likely be identified, but not featured on the show," a production source revealed.
"Viewers will see tender moments between Kim and her sister Kyle, as she supports her during this difficult time. Kim is handling the situation well and has stepped up big time. She is absolutely committed to getting her child help, while maintaining her ongoing sobriety."
The source said, "The urge to relapse had Kyle worried about Kim," but the 48-year-old twice married reality star hasn't returned to drinking.
Richards has four children with three different men, ranging in age from 18 to early 20s (Brooke, Whitney, Chad and Kimberly).
After RadarOnline.com detailed the sad story last week, the Bravolebrity was flooded with an outpouring of love and support from fans of the show, the insider said.
"Kim now wants to raise awareness about mental health issues, including depression and bi-polar disorder and will probably go public with how it has impacted her family," the source said.
"Her child is still continuing to receive outpatient treatment since being released from the psychiatric hold."
Richards' child was placed on a hold under the Californian Welfare Institutions Code 5150 – the same evaluation that Britney Spears went under in 2008 that allows for a qualified peace officer or clinician to involuntarily confine someone because it's deemed they have a mental disorder that makes them a danger to themselves and/or others.