Exclusive
'Teen Mom 3' Star Katie Yeager's Terrifying Domestic Abuse Scandal — Baby Daddy Joey Maes Allegedly Broke Her Nose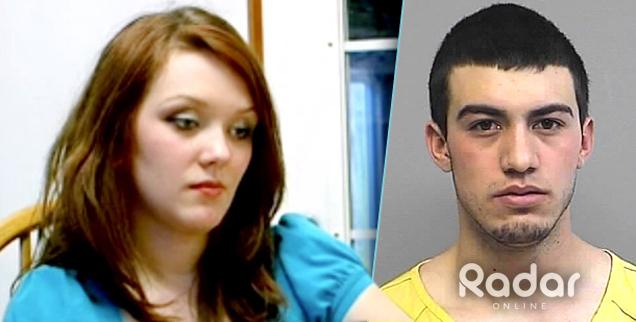 Stalking around the house, screaming and throwing things, Teen Mom 3 baby daddy Joey Maes seemed frighteningly out of control during a fight with his fiancée Katie Yeager on the Sept. 2 episode of the MTV reality show.
But RadarOnline.com has learned that the couple's true reality is much too terrifying for TV: According to several sources, Joey purportedly physically assaulted Katie on a number of occasions when the cameras weren't rolling.
Article continues below advertisement
Once, the 19-year-old single mother was so scared, a police report was filed, RadarOnline.com has confirmed. And in another instance, an insider claimed, Joey even allegedly broke Katie's nose!
"They have had physical problems for their whole relationship," said a source.
Tensions reached a head back in June of 2012, when Katie was moving out of their shared Utah home after finding out Joey had supposedly cheated. The source claimed, "He was punching and throwing things around the house while Katie was moving out," the source said. "It got physical."
The MTV crew was not present and Katie's mom called the police, the source added, but "Katie never pressed charges because she didn't want their daughter Molli to be in the middle of that."
The Green River Police Dept. confirmed to RadarOnline.com that someone filed a report of assault against Joey in June of 2012. Law enforcement sources also confirmed that Katie, 20, was involved in that incident and that Joey was never charged.
Article continues below advertisement
But sadly, that was reportedly not the end of the abuse drama. In October, Katie decided to move back in with Joey.
"Katie had just moved back in and they were fighting over everything," the source said. "Like, the stupid things couples fight about. Joey has really bad anger problems and a really bad temper and he told Katie that he was going to go to anger management and he never kind of went through with it."
And in that October spat, the source alleges, he hit her and broke her nose. "It's always been like a physically abusive relationship," the source claimed. "It was always with his fists."
Even though the MTV cameras were nowhere to be seen, somehow, Katie managed to keep her composure and avoid physical retaliation.
"She has always remained calm," the source insisted. "She never really yells at anything, like, she doesn't even know how to really yell or shout. So they were both in the fight but she has never caused bodily harm to him or laid her hands on him or anything like that. She's said her share of hurtful things, but…"
Article continues below advertisement
Both MTV and Joey had no comment when asked by RadarOnline.com.
Still, after her experiences, the source said Katie has learned her lesson.
"She left after that and she's never really put herself in the situation where she has been alone with him again," the source revealed. "When they exchange Molli, they meet in public places and stuff like that."
But Katie allegedly wasn't the only one who was victimized by Joey.
Earlier this summer, he allegedly beat up another girlfriend. The victim "was going around telling everybody about it," the source said.
If Katie's own experiences weren't enough, knowing that someone else went through it has strengthened her resolve to stay away from the man she thought would be the love of her life.
Charged the source, "Every time he got physical, it was the last time. No matter what. … After that, Katie was like, enough is enough. He's not going to change. There's nothing Katie can do. She couldn't put herself through it any more. She definitely did not deserve it."
Through this whole experience, "She learned not to put up with anybody else's cr*p," the source explains. "Like, always make the best decisions for yourself and the people in your life that you love and care about and everything else will follow. She knows all the warning signs from now on."
But despite her past, Katie has not given up on love yet. As RadarOnline.com has reported, Katie's back in the dating scene.