More Miley Cyrus Madness! Singer Shocks With See Through Dress, Crying Jag, And Banana Microphone At Music Fest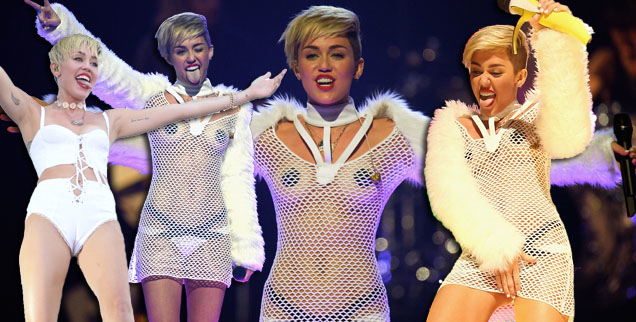 Miley Cyrus has gone from a foam finger to a banana microphone!
The outrageous singer who shocked American by twerking and touching Robin Thicke's crotch with her prop finger at the VMAs last month has pushed the envelope again.
At Saturday's iHeartRadio Music Festival in Las Vegas, Cyrus wore a white see through net dress with black pasties covering her nips and dominatrix-style panties clearly visible.
Article continues below advertisement
And she sang with a microphone covered by a cloth version of a banana.
To top it off, Cyrus later displayed a camel toe in a different, equally provocative white lace up top and hot pants outfit as she gyrated for the crowd.
According to E! News, the 20-year-old star seemed to be emotional hot on the heels of her recent split from fiance Liam Hemsworth. She started crying as she performed her song "Wrecking Ball." But Cyrus quickly got into the concert party atmosphere and when a fan threw her a pink bra onstage, she playfully tossed it back into the crowd!
See our gallery here.
youtube=https://www.youtube.com/watch?v=EclZrmDI8PM&w=420&h=315