No More Weight Troubles, LeAnn Rimes Says She's Glad To Have 'A Little More Meat' On Her Body Now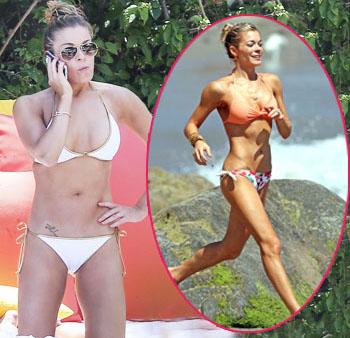 From scary skinny to toned and healthy, LeAnn Rimes has put her weight struggles behind her and is proud of her banging new body.
The 31 year wife of Eddie Cibrian has opened up about her shock over seeing how she had slimmed down and how she managed to put weight back on.
"I look back at those photos and think, 'Wow, maybe I was a little thin,' but at the time, I didn't think anything of it. I'm glad to have a little more meat on me now," LeAnn told Closer magazine.
Article continues below advertisement
"So I chose to take time out in rehab and focus on me."
LeAnn said she's a fan of British food, telling Closer what she likes to eat.
"I love tucking into fish and chips, shepherd's pie and Wagamama's. I try to eat healthily, but I love food too much to give up on anything. Working out helps me focus and I love to box."
While her relationship with Brandi might be strained, LeAnn says that she and her husband Eddie are closer than ever but that they're not planning on expanding their brood.
"I feel very blessed to have two wonderful boys," she says about step sons Mason and Jake Cibrian.
"We have talked about having more kids, but right now I love being a 'bonus mum,' so there isn't any rush."