Lamar Odom's Lawyer Expected To Ask For Postponement For DUI Arraignment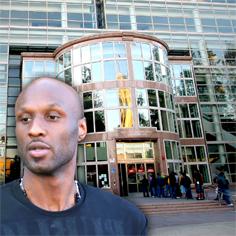 Lamar Odom's criminal defense attorney is expected to ask for a postponement for his DUI arraignment on Friday in a Van Nuys courtroom, RadarOnline.com is exclusively reporting.
The NBA veteran, 33, has hired two attorneys, with famed criminal defense attorney Robert Shapiro as the lead attorney, and co-counsel with DUI expertise. Either Shapiro or Richard Hutton, will appear at Friday's arraignment.
Article continues below advertisement
Sources connected to the situation tell us nothing "huge will happen on Friday, and a continuance of the arraignment will likely be requested." (This is routinely done in misdemeanor cases and allows the defendant time to gather more evidence before deciding how to plead.)
The drug-troubled power forward, who has been dealing with addiction issues and a troubled marriage with his reality television star wife Khloe Kardashian, was busted in the early morning hours of Aug. 30 for allegedly driving under the influence.
Odom isn't required to attend the arraignment, and isn't expected to make an appearance.
"The last place Lamar would want to be is at the courthouse facing the gauntlet of the media," an insider said. "He respects the judicial process, but Lamar could deal without all of the press hounding him. It's really getting to be way to much for him to deal with.
"Sadly, Lamar is still refusing to go to rehab"