The Cost Of Keeping Up: Fans Shocked By $150 Charge For Brief Meet & Greet With Kourtney Kardashian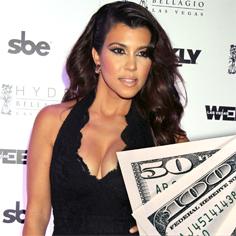 Kourtney Kardashian sprang an unwelcome surprise on her fans in Las Vegas last weekend.
Just prior to a scheduled appearance at the Mirage Hotel and Casino, InTouch reports, organizers told the thousands of Sin City fans in line (via a pink slip of paper) that there would be a $150 fee to share the air with the eldest Kardashian sister.
One parent who attended the event fumed to the magazine, "Don't they have enough money? Why would I pay $450 for my twin 8-year-olds and myself to meet her and get a picture?
Article continues below advertisement
"I called yesterday and asked, and they said I didn't have to buy that package, but now I drove down here, paid for gas and told my babies they could see her and it's changed. I'm not a fan anymore."