Trip To Paris Puts Kim Kardashian In Breast Milk Dilemma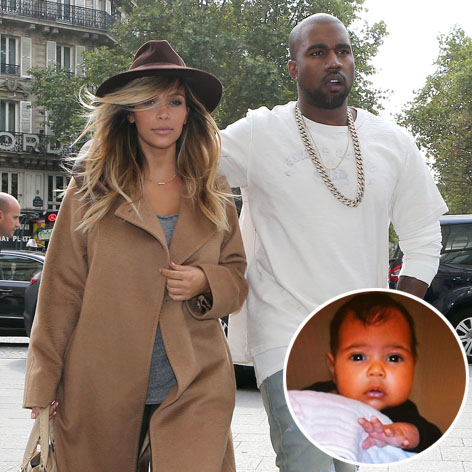 Kim Kardashian and Kanye West arrived in Paris Saturday morning without their daughter, North, and the decision to leave her home in L.A. wasn't an easy one for the new mom.
"Kim really wanted to take Nori to Paris but Kanye insisted that it wasn't a good idea because of his issues with photographers," a source close to the couple tells RadarOnline.com exclusively. "He thought it was too dangerous.
"He also wanted Kim all to himself for a few days. He said they needed to spend time together as a couple away from her family," the source added.
Article continues below advertisement
That caused a major dilemma for Kardashian, who has been breast feeding her four-month-old daughter.
"Kim had wanted to continue breast feeding for another two months," the source reveals. "She considered taking a breast pump with her to Paris and having either an assistant flying the milk back to L.A. or shipping it back by FedEx.
"Kanye thought that was ludicrous, and as usual he got his way," the source says.
After a visit to the offices of Givenchy Saturday afternoon, the couple took a high speed train to London for some meetings. They were back in Paris Sunday morning in time for West to be seen in the front row of the Celine show.
"Kanye has set up multiple meetings with Chanel, Celine and Givenchy to design a new post pregnancy wardrobe for Kim. He thinks this is a prime opportunity for her to re-vamp her image," the source tells us.
"Kim is also hoping to discuss wedding dress designs while in Paris," the source says.