Stand By Your Man! RHONJ Star Kathy Wakile Defends Husband Rich's Nasty Tweets To Fans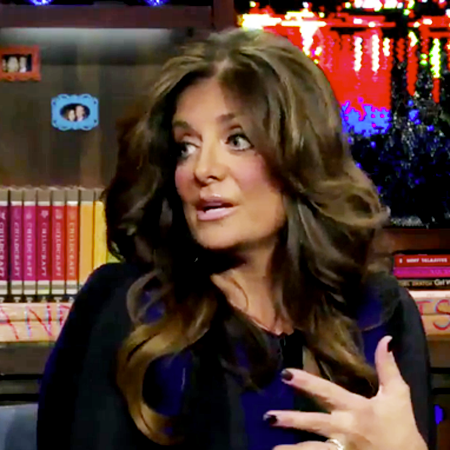 Article continues below advertisement
"I get a lot of tweets from people that Rich is mean to them on Twitter. What's your response to that?" Andy asked.
Kathy replied, "My response is if you're going to put on an insult to one of his family members, namely me or of my children, you're going to expect something back.
"Throw a punch, you better hold your hands up, 'cause you're going to get it back.
"You know what?" the stand-by-your-man housewife said. "If you want to play that game, then he's the first one to play it with you."
Kathy was joined on the talk show by comedian and RHONJ superfan Andrew Dice Clay, who stirred his own controversies back in the day and also defended Rich.
"He's a lot like me," Clay said.
"He might be tweeting back to a guy living in a mud hut in Mississippi," the Diceman said.
"That's the problem with this country, what's out there. It's not a guy on the same block that has half a brain in his head," Clay theorized.
Article continues below advertisement
GALLERY: The Giudice's 30 Most Shocking Quotes About Fraud & Finances
Kathy said, "Right, but he loves it. Like, c'mon, bring it on!"
Later, Rich just seemed to court more controversy by joining his wife and Clay on Watch What Happens Live and playing a game called Diceman Mind Meld--in which the reality star and comedian tried to prove they weren't actually the same person!
During the game, Rich yelled out a number of risque phrases while also dropping the F-bomb, which was bleeped by Bravo.
A fan also called in to the show to imply that Rich was constantly disrespecting Kathy on RHONJ.
"I'm sorry you feel that way, but that's not the truth," Kathy said. "He's always encouraging me. He's very supportive of me.
"He really wants to protect me. If it comes off not that way, you don't understand it."
Kathy also responded to RHONJ co-star Teresa Giudice dissing her cannoli on Sunday night's episode.
Article continues below advertisement
Teresa had sighed, "Just a few months ago, Kathy was a housewife. And now she has cannoli kits. Are they edible? Yeah. I'm pretty impressed.
"Did I roll my eyes too much?" Teresa told the cameras in her trademark catty style.
Kathy's reaction? "I didn't think that was really nice," she fumed to Andy.
"What's wrong with being a housewife? I'm a housewife, proud of it, and as far as being edible, are they edible? You've had them."
Andy confirmed, "They're very good."
During the talk show, Clay also chatted about his recent comeback thanks to a juicy part in the Woody Allen film Blue Jasmine.
"I haven't had this kind of moment since like '88," Clay said.
And expect to see more of him!
"My agent -- we're getting offered every show there is on TV.
"I'm going to make a choice pretty soon of the kind of show I'm going to do," Clay said.
The former foul-mouthed comedian, who said his wife got him hooked on housewives, weighed in on some of the recent New Jersey storylines, including horse therapy.
Watch the video on RadarOnline.com
"Anything to do with women and horses shouldn't be seen on TV," he joked.
Later, a fan called in to ask Kathy's opinion on Teresa and Joe Giudice's indictment scandal.
Kathy said she had talked to Teresa recently and, "She knows we're here for her and we hope everything gets resolved for her family as quickly as possible."