Exclusive
Journal Reveals MJ's Desire To Be 'Better Than Gene Kelly & Fred Astaire,' Desperation To Be 'The Greatest Ever'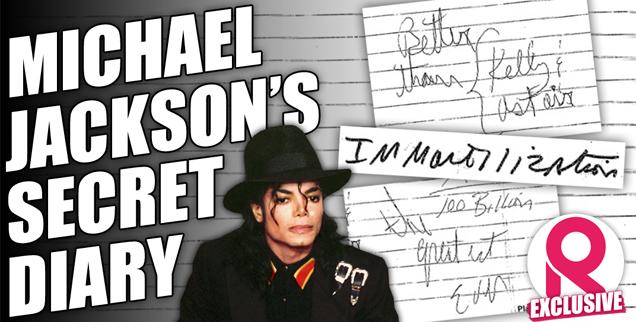 Tragic Michael Jackson grappled with his desperation to be "the greatest ever" performer -- a bigger star than Gene Kelly and Fred Astaire -- in the months before his tragic death, his secret diary reveals.
RadarOnline.com has obtained twelve pages of the King of Pop's journal which detail his blueprint to be rebuild his flagging career in the hope of eventually becoming "immortalized" -- like his idols Charlie Chaplin, Michelangelo and Walt Disney.
Article continues below advertisement
Article continues below advertisement
The Billie Jean hit-maker details his last-ditch attempt to begin earning $20 million income each week, by moving into movie production after the tour's end and ultimately becoming the "first multi-billionaire entertainer-actor-director."
"Better than Kelly and Astaire," wrote Jackson, who died at age 50, a day after a rehearsal and three weeks before the first concert on what would have been his final tour.
"The greatest ever in the likes of Chaplin, Michelangelo and Disney - these men demanded perfection, innovation always."
The pop star remarked how he wanted AEG, the concert promoter, to help him develop and remake movies for such fantasy classics as The 7th Voyage of Sinbad, Ali Baba and 40 Thieves, Jack The Giant Killer and 20,000 Leagues Under the Sea.
Jackson -- who considered himself the real-life Peter Pan -- also plotted to create a 3D version of Aladdin, the Disney animation mega-hit from 1992.
Article continues below advertisement
He scrawled, "If I don't concentrate on film, no immortalization."
The most celebrated entertainer the world has ever seen also wanted to take on The Great White Way with a musical about his life; and create his own merchandise lines of soda and cookies.
He noted his desire to meet with Simon Fuller, the man behind American Idol and the Spice Girls, whom he though could help him resurrect his career.
While he had adulation for Fuller, Jackson couldn't say the same kind sentiments of Tohme Tohme, his ex-manager.
"Tohmey (sic) away from my $ now," he blasted in one entry. "No Tohmey near me, No Tohmey on plane or in my house," he added, in another.
The 13-Grammy Award winner -- who was strapped for cash at the time and living like a vagabond, as a court has heard -- noted how he needed to "hire an accountant I trust" and lawyer, but warned himself, "caution, caution."
Article continues below advertisement
In another note, he wrote: "Mother do you need $."
Lawyers for Katherine Jackson are fighting to get the notes admitted into evidence, however AEG, who were promoting the London concerts, is arguing the notes are hearsay and should not be allowed to be used.
"There is simply no evidence showing when Michael Jackson wrote the notes, why he did so, or what they mean. As a result, there is no way to know whether the notes ever showed Michael Jackson's plan, motive, or intent," said a motion, obtained by Radar.
Katherine, 83, is suing the concert promoter for wrongful death saying the company's executives negligently hired the doctor who overdosed her son and should be held financially liable.
AEG Live maintains that Jackson kept his dependency on propofol secret from outsiders, that a proposed contract with Murray was never fully executed and they could not have foreseen that Murray posed a danger to Jackson.