Exclusive
Health Scare: Jon Hamm To Undergo Throat Surgery To Remove Polyp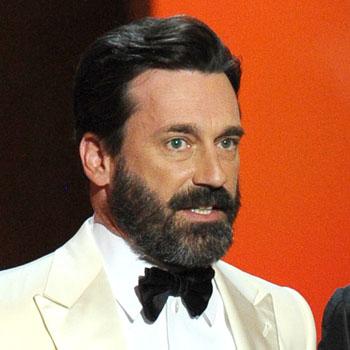 Jon Hamm will undergo throat surgery, RadarOnline has confirmed.
The 42-year-old Mad Men star is "having a single polyp removed from his throat" in what his rep described to RadarOnline.com as being a "routine outpatient procedure."
The actor sported a full beard and a noticeably raspier voice at Sunday night's Emmy Awards in Los Angeles, where he was overlooked for Outstanding Lead Actor in a Drama.
A source said Hamm had dragged his feet about getting medical treatment for the issue.
Article continues below advertisement
"In the past Jon has been terrified that if he has them removed, his vocal cords could be severely damaged," a pal told The National ENQUIRER in early September, before news of the scare broke publicly.
"Jon has tried to deal with the pain, but over time, he started coughing more and more often, which only aggravated his condition and made his throat feel like it was raw."
It's not uncommon for actors and singers to have throat surges to remove growths; other stars like singers Adele, Mariah Carey and John Mayer have all had similar procedures in the past.
According to the Johns Hopkins Medicine website, vocal cord polyps are "blisters" that are thought to form because of overuse or abuse of the vocal cords. People who use their voices a great deal are more prone to developing them.