'I Will Not Let Anybody Take Me Down,' Joe Giudice Vows On RHONJ Season Finale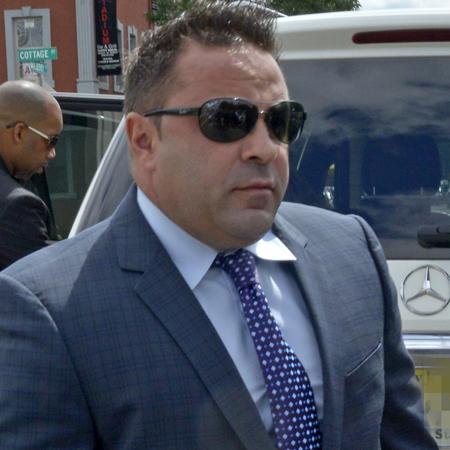 A defiant Joe Giudice told his wife Teresa about legal trouble, "Our little situation is basically nothing. I will not let anybody take me down. I'm going to prove myself right 'cause that's the kind of person I am" on Sunday night's season finale of The Real Housewives of New Jersey.
The couple -- now under fire after being indicted on 39 counts of fraud this summer -- were shown winding up season four by entertaining their cast mates at their refurbished Jersey Shore home, which they'd fixed up after Hurricane Sandy.
Article continues below advertisement
But the peaceful moment with their RHONJ co-stars was truly the calm BEFORE the real legal storm to come.
Was Joe Giudice referring to his earlier driver's license legal problem -- or did he have an inkling that he and Teresa might face other charges?
Although that wasn't clear, in a foreshadowing of the accusations to come, Teresa admitted as the episode ended, "I don't know what the future holds."
And Bravo wound up Sunday's show with scandalous clips showing how the Giudices' on-screen drama was nothing compared to the indictment scandal that has shocked RHONJ fans all summer.
However, there was unfinished business as Sunday's episode started, when Penny Drossos told the gang that Teresa had put her up to the gossip about Melissa Gorga allegedly cheating on her husband.
"YOU wanted to destroy her, not me!" Penny told Teresa in a continuation of their bitter argument from last week's show at the opening for Kim DePaola's store, Posche 2.
And as RadarOnline.com has previously reported, when Penny's husband Johnny Karagiorgis ("Johnny the Greek") showed up, Joe Gorga challenged him about the alleged lies he was spreading on Twitter about the Gorgas.
Article continues below advertisement
Joe asked Johnny to talk to him "man to man."
But Johnny caused more problems by telling Joe, "Ask your sister where it stems from!"
Although Bravo's cameras didn't show exactly what occurred, Gorga and Karagiorgis got into an apparently violent physical fight. (As RadarOnline.com recently reported, all charges related to the brawl were dropped.)
"He's disgusting. He's an animal!' Gorga yelled.
Caroline Manzo who was also at the store opening, was horrified at the fight, and yelled at Kim D., "Are you happy?!"
"I had nothing to do with it," Kim claimed.
Although he was angry, Joe Gorga still backed up his sister Teresa: "I'll deal with you later," he told her.
"I knew it was my sister," Joe told Bravo's cameras. But he wanted to protect her, too.
Meanwhile, looking like she'd gotten her hand caught in the cookie jar again, Teresa sighed, "This is so f----ed up."
Later, Teresa told her husband she was worried if things were going to be right with her brother.
Article continues below advertisement
Juicy Joe said everything looked bad to the other Joe and Melissa.
"They're not too smart," he growled.
During a Gorga pow-wow, Melissa told her husband his sister played dirty.
"I don't know if I could ever trust my sister every again," Joe said.
"I can't X her out of my life. I have to forgive," Melissa said.
"She still denies it," a pissed off Joe Gorga said.
In the wake of the Posche 2 event, Caroline was expressing good thoughts about her own stable family (soon to be seen in a RHONJ spinoff!).
She was looking at her house that she'd given up to live in a Hoboken apartment with her husband, Al, and it was hitting her that this was where her kids grew up.
"We don't have to leave," Al told her.
"This is where we belong," Caroline agreed in a confessional segment.
In another heart-to-heart, Teresa told Jacqueline Laurita she hoped Joe Gorga wasn't believing Penny's stories.
Jacqueline's husband, Chris, told her to tell Joe she f---_ed up.
Article continues below advertisement
"Please don't let this start another family war," Jacqueline told the cameras.
She encouraged Teresa if any part of Penny's story were true, it would be best to 'fess up to her brother.
"I was around people who were saying things about Melissa. Maybe I should have walked away," Teresa explained to Jacqueline.
"Your brother just wants to hear you admit that," Jacqueline said.
Teresa vowed to keep the peace, and at a drink tasting at the Manzo family restaurant, BLK, the siblings had a serious one-on-one talk.
"I'm not going to flip out and yell at her," Joe told the camera.
Teresa said, "You know I love you more than anything."
And the contrite sister added, "I do regret things that I've done."
Joe Gorga said, "I'm not perfect. We all make mistakes."
Teresa said the night she met Penny and her other friend, Jan, Penny said Melissa had cheated on Joe.
"They were making me feel better by saying negative things," Teresa said admitted about Melissa, whom she was then estranged from.
Article continues below advertisement
"I listened to the wrong people and I apologize," Teresa told her brother.
"I never put them up to anything."
Gorga told viewers it was the first time Teresa had admitted to being wrong to anything -- which "was a big deal."
Joe said they had both let things escalate.
"I want you to put your wife and your kids before me," Teresa said, breaking into tears.
"I just love you. That's it."
Joe cried, too, and they hugged.
"I don't want to fight anymore," Teresa said.
Joe said, "I'm happy."
"Teresa's tears are genuine," Joe told the cameras. He hoped it would take them to a better place.
Later, Teresa and her husband barbequed at their Jersey vacation home and the gang came over. As everyone discussed the season's events, the show updated us on what the cast members are doing now:
Kathy Wakile started building her dream home with hubby Rich staying out of the way.
Watch the video on RadarOnline.com
Jacqueline's daughter Ashlee is back in New Jersey but plans on attending beauty school in Los Angeles.
Caroline and Albert have left their Hoboken apartment and are back in their house with Caroline's sister, Fran, their daughter, Lauren, and a passel of animals.
Melissa and Joe have sold their mansion for $3.8 million and are now living an hour away from the Giudices. They plan on having them over for Sunday dinner ... someday.