Cleanup On Aisle 5! Couple Caught In Sex Romp In Home Depot Shed Convicted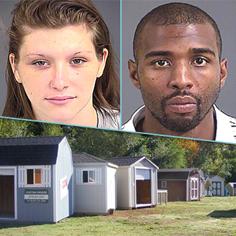 The man and woman caught having sex in a shed at a Home Depot store in South Carolina last month were each found guilty of disorderly conduct this week, RadarOnline.com has learned.
Shaun Bowden and Emily Craig were arrested Aug. 28 after police said they were summoned to the home improvement warehouse "in reference to an male and female entering a display shed on the property, closing the door behind themselves and remaining inside."
Article continues below advertisement
DOCUMENTS: Read The Police Report
Sure enough, cops caught the exhibitionist duo in an early morning roll-in-the-hay, with authorities saying the 32-year-old man's "penis was exposed" to officers when he was initially spotted, documents on The Smoking Gun reveal.
Craig, 20, spent 22 days behind bars in the incident, and is free after she received credit for time served. She pleaded guilty to giving cops a bogus name. Bowden was also convicted on indecent exposure after cops saw his privates. He skipped the hearing, and a bench warrant for his arrest was issued. He received a sentence of two 30-day jail sentences to be served concurrently.