Exclusive
Heartless Housewife! 'RHOA' Star Kenya Moore Abandons Her Puppy After Eviction, According To Angry Neighbors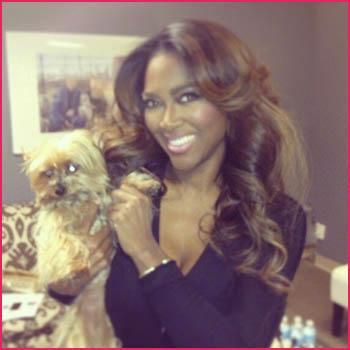 The Real Housewives Of Atlanta star Kenya Moore has disowned her pet dog Velvet, leaving the celebrity puppy to live with a friend in the neighborhood where she once lived.
The 42-year-old former Miss USA -- already branded the "neighbor from hell" -- "abandoned" adorable Velvet, herself an occasional star on Bravo, at her suburban Atlanta, Ga., home after she moved out in contentious circumstances earlier this year, according to neighbors.
Article continues below advertisement
"Velvet is currently living with one of Kenya's neighbors," one angry resident said of hapless Velvet, who even has her own Twitter account where she's described as "a cute dog living in a doggy dog world"
"Apparently, Kenya never picked up her dog from a neighbor!
"I have seen the dog running around the neighborhood on several occasions. She even went back to the home that Kenya was renting, looking for her owner. It's all very sad!"
As we previously reported, the Bravolebity was booted from the luxurious $3999-a-month rental mansion where she had lived after a bitter spat with her landlord .
Moore agreed to leave the home voluntarily in July after owner Conya Dillon Weems filed papers to evict her from the home for not paying her rent and late fees.
"Kenya has not been back to the neighborhood since she moved out, not even to drop off a bag of dog food," said another neighbor.
"She needs to come back to the neighborhood and get her life and dog. Poor Velvet."
Velvet — an accessory often seen on Moore's arm, just like a designer hangdog -- was previously allowed to roam around the gated community, much to the fury of some residents.
"Kenya's dog was always on the loose," said one neighbor.
"Owners were concerned that the value of their properties was going to go down when Kenya lived here because she never maintained the landscaping, nor the pool and even stored furniture outside."