Giuliana Rancic On Date Night With Bill: 'It's Getting Into Bed Early And Watching TV'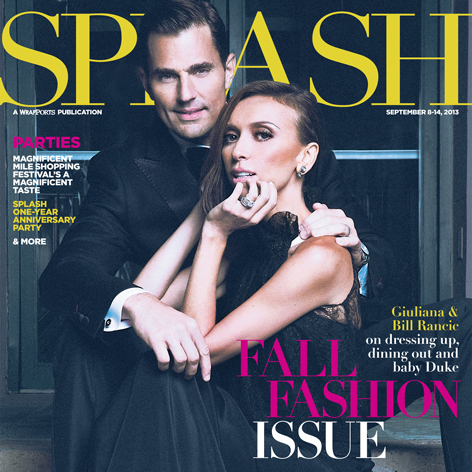 Giuliana and Bill Rancic are always on the go so their idea of "date night" is quite a bit different than most couple's.
"Our date night is, 'Let's get in bed early, watch TV, get a bottle of wine.' That's how we connect," Giuliana tells the Chicago Sun-Times' Sunday SPLASH magazine.
"We don't put pressure on ourselves to keep things exciting," Giuliana explained. "We define date night not by getting my hair done, getting dressed up and going to a fancy restaurant and spending a lot of money."
Article continues below advertisement
The Chicago power couple own a successful restaurant in the Windy City, RPM, and will open a second location before the end of the year. Their favorite time to dine there is 5:30 so they can get home to their adorable son, Duke.
In addition to Giuliana's work on E!, the pair is also promoting the September 24th sixth-season finale of their Style Network show, Giuliana & Bill, and they're gearing up for the premiere of Bill's new reality show, Training Day, where he tests himself in training sessions for some of America's most dangerous jobs, from ice-road trucking to embedding with a SWAT team.
"It's gonna be a lot of fun," Bill told SPLASH. "But my wife was not thrilled with the idea of me doing some of these things."
"When he's jumping out of helicopters, I don't know if I'll be able to watch," Giuliana laughs.
Bill wasn't in a jumpsuit for their SPLASH photo shoot though. The fashion forward pair dressed to the nines, and you can catch a behind-the-scenes look at the pic session HERE:
youtube=https://www.youtube.com/watch?v=TTCSE4bQZ20&w=420&h=315