Exclusive
'You're A Chicken!' Casey Anthony's Mom Clashes With Woman At A SECOND Yard Sale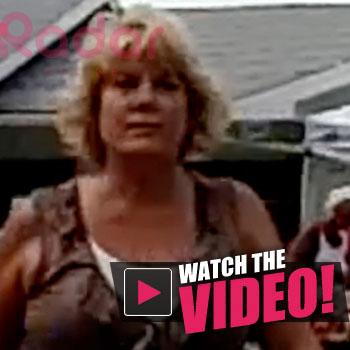 Article continues below advertisement
"Don't do it...because I will sue your ass," Cindy can be heard yelling at the woman, as she pulls up curbside at the Mount Dora, Fla. home.
DOCUMENTS: Woman Files Assault Police Report Against Cindy Anthony
"Come on," Werner responded. "I'm on a public roadway. Show your ass."
At that point, Cindy approaches the vehicle.
"How dare you," Cindy said, repeating the phrase three times at Werner.
"Touch me...do it," the woman taunted.
The pair then appear to clash, although the video does not clearly show whether Cindy hit Werner.
As she sped off, Cindy can be heard yelling: "You're a chicken!"
After the incident Werner drove to a Steak 'n Shake where police responded to her call and while the initial report resulted in no charges being filed, Werner exclusively tells RadarOnline.com the case is still open.
"Currently the case is an open case at the State Attorneys Office. The officer who stated the case was closed was not aware that is was not," she claims during an interview with RadarOnline.com.
Article continues below advertisement
"Cindy Anthony is currently looking at one misdemeanor and one felony as it stands right now."
According to Werner, the original police report (which you can see here) was not an accurate reflection of her statement, and she believes the video footage speaks for itself:
radar_embed service=5min.com src="http://pshared.5min.com/Scripts/PlayerSeed.js?sid=1126&width=570&height=351&playList=517931392&sequential=1&shuffle=0"
"If you watch the video from the beginning, you hear me say 'Here they go again' or something like that. 'Here we go again, y'all...they're at it again,' she said I said that to myself, I am very far from the house, at that point, and also my window is up at that point! You can HEAR me roll down my window as I am approaching the house," Werner said.
There was already bad blood between the pair, before this incident.
Article continues below advertisement
Werner previously attended another yard sale Cindy and her husband George were throwing in which they were selling off items believed to have belonged to Caylee Anthony -- a sale that was captured on cellphone video and published exclusively on RadarOnline.com.
Although Werner admitted she drove past the garage sale to get video footage, she claims her intent wasn't to antagonize Cindy.
"Cindy Anthony and how she truly behaves and conducts herself is appalling," she says.
"She can't control herself when she is angry, that is why George Anthony is always so quiet."
In the meantime, the Anthonys are looking into filing a civil lawsuit against Werner for videotaping them at the garage sale without their knowledge.