The Kitchen Nightmare Lives On! Former Chappy's Manager Claims She's Owed Three Weeks Pay, Picketing Restaurant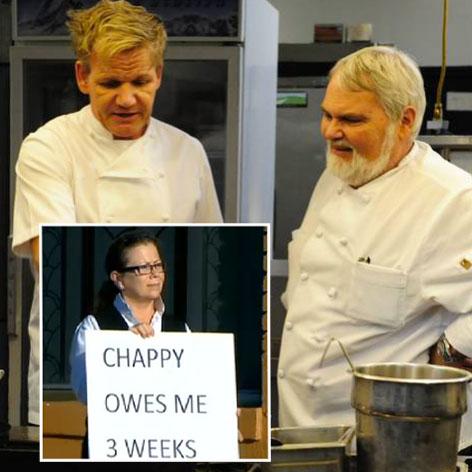 Article continues below advertisement
Other employees (18 of them!) also claim they are owed money when Chappy's closed in June and the owner left this message on his Facebook page: "This is a very sad day since we have worked so hard. We shouldn't have done Kitchen Nightmares. We have spent several months struggling to come out of a negative situation."
Interestingly, Chappy's was closed when the building was seized by the government for unpaid taxes — but Chapman has filed for a permit to open a new Chappy's restaurant in New Orleans.
MORE ON:
Kitchen Nightmares
— The Ultimate Guide To Reality TV Shows
"He's opening a restaurant in New Orleans. I don't know how one can when you claim bankruptcy three years ago and you still have a restaurant. You just move down to New Orleans and open a restaurant… and yet I'm not paid," Benson told News Channel 5.
"I think we're doing what's right. We want our money, we want justice."
According to Benson, managers, servers and dishwashers tallied up the money Chapman owes them and it's thousands of dollars, so they plan to take legal action against him and the restaurant.
"We would have to wait weeks to cash checks," Benson revealed about life at the restaurant after Kitchen Nightmares. "It became stressful."
In terms of the legal action, Benson said Chapman's attorney told her he doesn't have the money to pay her, so she plans to visit his new restaurant in New Orleans and picket there until she's paid.