Exclusive
Gordon Ramsay's 'Kitchen Nightmares' Strikes Again: Another Restaurant Closes After Disastrous Appearance On Show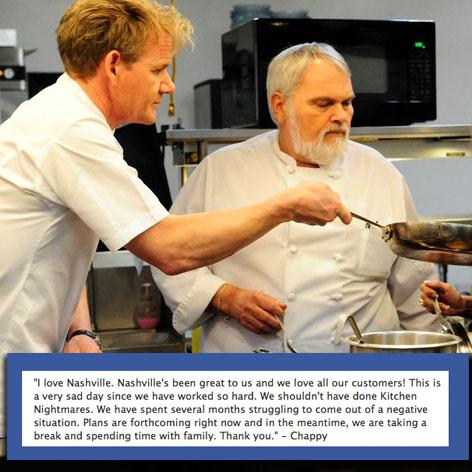 The curse of Kitchen Nightmares has struck again and RadarOnline.com has exclusively learned that another restaurant has closed following a disastrous appearance on the show.
Chappy's on Church in Nashville, Tennessee was featured on Gordon Ramsay's show in May, but the owner claims that the outrageous episode destroyed his business.
The foul-mouthed British chef labeled the food at the Cajun style restaurant as "bland" and called owner John "Chappy" Chapman "a joke" on the show.
Article continues below advertisement
The backlash was swift when Chappy said that the Nashville diners didn't understand Cajun food, with unhappy southerners slamming his comments.
The end finally came for the struggling restaurant this week, with Chappy announcing on his Facebook page that he was forced to close the restaurant and squarely blamed his Kitchen Nightmares appearance for the demise of the eatery.
"This is a very sad day since we have worked so hard," he wrote to his followers."We shouldn't have done Kitchen Nightmares. We have spent several months struggling to come out of a negative situation."
"He tried to ruin my business and my life. And he is obsessed with my husband's balls! No cake for him!!!"
Chappy probably feels the same way.
According to NBC4 in Nashville a sign posted on the door of the restaurant says Chappy's is "seized for non-payment of Tennessee state taxes."