Exclusive
Britney Spears' Team Stunned By 'Unapproved' Question On 'Good Morning America'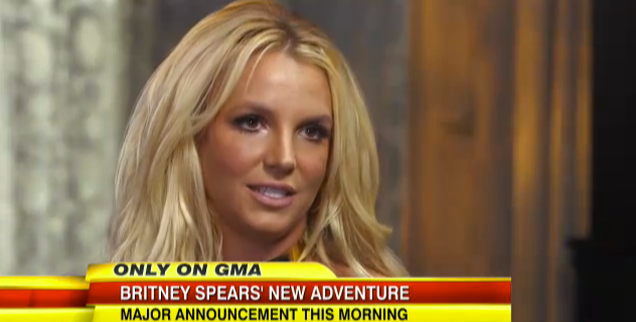 Before Britney Spears agreed to appear for an exclusive sit-down interview with Good Morning America, all questioned had to be pre-approved by her team and RadarOnline.com has exclusively learned they were stunned by an unapproved question that left the pop star panicked.
The interview "absolutely had conditions in place about what Sam Champion could ask her. The formal sit-down interview took place before Britney appeared live on Tuesday from the desert," a source told Radar.
Article continues below advertisement
"Britney's team panicked when Sam deviated from the pre-approved questions and asked her who her first kiss was. There was a brief moment of panic from Britney's team, but she handled it like a pro."
According to the insider, pre-approved questions have always been a demand from Spears' team.
"Britney doesn't do any interviews with any media outlets that don't agree to the conditions set forth by her team," the source said.
"This is done to protect Britney, and so she won't be asked any awkward questions."
The 31-year-old mother-of-two made the exciting announcement about the latest phase in her career after she got helicoptered into the morning show, with as many as 1,000 fans (dressed as schoolgirls) on the ground cheering on the pop princess.
"This is such a sweet thing to do. I don't even know what to say," Spears said. "I'm speechless … this is shocking."
The Grammy-winner said of her decision to play Las Vegas: "We wanted the environment to be that way so people could come and have a good time and stand up and feel like they're in the show with me. I love Vegas. The energy here is really, really good."
Team Spears also "set a time limit on the interview with Britney. It had to be controlled," the insider added.
"The interview took place in under 30 minutes, not including hair, makeup and lighting."