Exclusive
Biting Her Tongue: 'Real Housewives of Beverly Hills' Star Brandi Glanville Refuses To Be Drawn Into LeAnn Rimes' Twitter Feud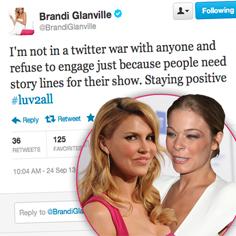 Another day, another vicious cat fight in the war between feuding ladies Brandi Glanville and LeAnn Rimes.
There is no love lost between the current and former Mrs. Cibirians, and their online bickering is amping up this week after LeAnn fired the first shot in the Twitter war and even though Brandi is trying to bite her tongue she just can't help but respond.
As RadarOnline.com previously reported, LeAnn mocked a preview of the Real Housewives of Beverly Hills, and then sent a series of Tweets defending her right to "tell the truth," about her situation.
Article continues below advertisement
As the battle between LeAnn and online strangers erupted, Brandi weighed in, saying that she is holding back her true feelings, writing: "I'm really trying not to engage here! There are so many things I want to scream!!!!! Breathe stay focused on work! :) have a beautiful day!"
Slamming LeAnn and Eddie's new television show, Brandi wrote that she isn't going to give them any more attention.
"I'm not in a twitter war with anyone and refuse to engage just because people need story lines for their show. Staying positive #luv2all"
Are you team Brandi or team LeAnn? Tell us in comments.